Finding the right app can improve your chances of meeting the right person. Zoosk and OkCupid are popular dating apps. Find out which one is most suited to your relationship and dating needs and see how they compare in terms of features and pricing.
Picking the right dating app: Zoosk vs. OkCupid
The right dating app will be the one that most closely matches your romantic relationship preferences. Dating apps are a bit like reality TV, everyone has an opinion and a favourite. That fave could well be OkCupid, Zoosk, or something completely different.
Online dating app recommendations
Before you pick your favourite, be sure to look at our dating app recommendations.
C-Date
Simple, discreet hookups on the go
Perfect for local matching
Match based on special interests and more
Share pics and videos
CupiDates
Large database of Asian and European singles in the UK
Full control of your profile to set your desired privacy settings
Attend virtual events to meet even more members
eharmony
Easy to use mobile app
Leader for serious dating apps
Match with local partners or by city
Perfect for finding love on the go
Academic Singles
Caters to matching academics and professionals for serious dating
Match and meet with singles locally or by city
Flexible for mobile users
Elite Singles
Meet matches who fit your schedule
Enjoy dating to find a serious, lasting romance
Active members across the UK
Ourtime
Ideal for serious relationships with over 50 seniors
User-friendly and simple to use
Match up with locals
Chat, message, share video and more
EliteCupid
Personality assessment for enhanced screening

Global reach. Match with like-minded singles all over the world

Meet your equal in values, lifestyle, and career ambition
Ulla
Ignite romance right in your vicinity
Enjoy exact matching thanks to accurate filters;
And explore many more benefits that will help you find love!
Pukbo
Offers unlimited messages and great value with a Welcome Offer for the new members
More than a dating site. Gives access to engaging and unique VIP Content for its premium members
Secure. Supports a variety of safe and convenient payment options, like Google Pay and Apple Pay
Only-Flirts
Easy and convenient interface
Perfect for casual dating & hookups
Plenty of members for you to have fun with
DateYourGirl
Meet attractive Asian, European, & Latino singles
Quick and free signup
Casual or serious online dating
My Mature Flirt
Engage in romantic conversations of an exciting nature with REBLL Network's premium British dating community. If you are looking for teasingly playful connections, meaningful deeper interactions, or anything in between, you have arrived at your destination! Let us create memorable experiences for you that leave you both satisfied and wanting more. Check out our perks:
Flirty Conversations: Engage in playful banter, exchange virtual surprises, and enjoy interactive charm with potential matches that make your heart race.

Captivating Profiles: Create a profile that dazzles! Share your most alluring photos, fun videos, and witty bio snippets to showcase your unique charm.

Exciting Encounters: Join us at local events, where sparks fly, connections sizzle, and you'll find yourself wrapped up in thrilling moments with other singles in the UK.

Personalized Connections: Immerse yourself in Exclusive Matches, where cutting-edge algorithms work their magic, connecting you with individuals who ignite your interests and desires.

Safety with a Spark: Your safety is our top priority, wrapped in an air of mystery and excitement. Exclusive Matches ensures a secure yet exhilarating dating experience, where you can let your guard down and embrace the adventure.
Ashley Madison
Best for: Open-minded looking for "no strings attached" fun
Free membership: Free registration, limited
Users: 54 million
Zoosk vs. OkCupid: where are they different?
Here are the most important differences and similarities between Zoosk vs. OkCupid.
| | | |
| --- | --- | --- |
| | Zoosk | OkCupid |
| Who is it for? | Singles looking for either serious relationships or casual flirting. | Singles looking for a variety of relationship options, inclusive features, and diversity. |
| Registration details | Fast sign-up needs only basic information to access the site. | Fun registration with lots of situational/hypothetical questions that are great conversation starters. |
| Memberships and profiles | Estimated 40+ million members worldwide. Many profiles aren't detailed. | Millions of users with detailed profiles which can help break the ice when chatting. |
| Premium Service | Free service available, one subscription plan with full messaging, different lengths, and coins for additional features. | Free service includes messaging. Paid subscription adds more perks to improve experience but isn't essential. |
| Pros | Flexible features for long-term dating or for casual flirting and hookups. A fun approach to a dating app with new features like video chat. | Messaging and all main features are free. Inclusive-sign up options. Search and filtering features. Detailed profiles. |
| Cons | You have to pay for unlimited messaging after the trial period. | Long profiles can make it slower to browse. |
| Sign-up | | |
There are a lot of similarities between Zoosk vs. OkCupid. Let's have a look at what the strengths of each dating app are.
How is Zoosk better than OkCupid?
Zoosk is better than OkCupid because it is more fun to use. The dating app takes a gamification approach that aims to make online dating less stressful. Zoosk's layout will be familiar to anyone who has used social media sites before.
Unlike OkCupid, Zoosk doesn't require users to answer a lot of detailed questions to build a compatibility profile. To find compatible matches, Zoosk will only ask you a few basic questions when you use the Smart Picks feature, which is optional.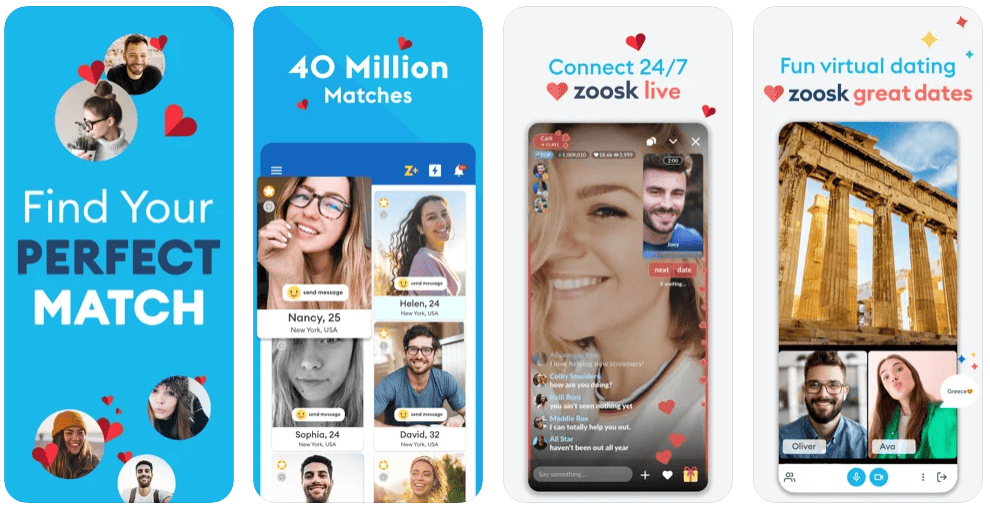 With Zoosk, you have the best of both online dating approaches—browsing and swiping. You can see multiple profiles at a glance on the main screen or, alternatively, you have Carousel mode, which lets you swipe through profiles like you would on Tinder or Bumble.
How is OkCupid better than Zoosk?
OkCupid is more flexible and detailed than Zoosk. This starts with the sign-up and profile creation process where a questionnaire helps users fill out their profile. The personality questions are an ongoing feature which helps OkCupid better determine compatibility.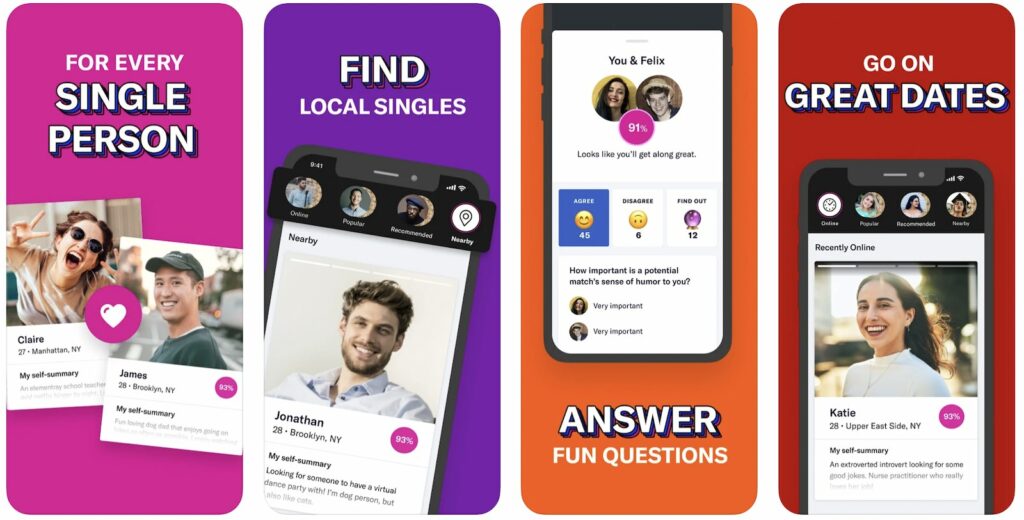 OkCupid gives users fully-featured search and filtering settings to tailor how they browse through profiles. OkCupid is also proactive when it comes to inclusive sign-up options for gender and sexual preference.
OkCupid key points
These are some important things to know about OkCupid:
OkCupid encourages users to share a lot of deeply personal details on their profiles or through question prompts. You have the option to not use your real name on your profile.
Supports non-monogamous dating such as polyamory.
Lets users define preferred pronouns on their profile.
Free features: Zoosk vs. OkCupid
Compare the features you have access to as a free user on Zoosk vs. OkCupid.
| | |
| --- | --- |
| Zoosk free features | OkCupid free features |
| ✅ Create a full dating profile | ✅ Create a full dating profile |
| ✅ Access the Carousel | ✅ Unlimited messaging |
| ✅ Send smiles and hearts | ✅ Browse all profiles |
| ✅ Watch Zoosk video streams | |
Zoosk seems to give you better free features by letting you create a full profile and access the Carousel. However, it's OkCupid that gives users unlimited messaging for free. Zoosk only lets you react with smiles and hearts once the promotional trial period is over.
Paid features: Zoosk vs. OkCupid
Compare the paid features you get on Zoosk vs. OkCupid.
Paid subscriptions
Below you can see what Zoosk and OkCupid offer to its paying subscribers. For full pricing details on subscription options for both apps, check the next section.
| | | |
| --- | --- | --- |
| Zoosk paid membership features | OkCupid basic paid membership features | OkCupid premium paid membership features |
| ✅ Send messages | ✅ No external ads | ✅ No external ads |
| ✅ See who likes you | ✅ Unlimited likes | ✅ Unlimited likes |
| ✅ Chat with your SmartPicks | ✅ Unlock all intro messages | ✅ Unlock all intro messages |
| | ✅ Set dealbreakers | ✅ Set dealbreakers |
| | | ✅ See everyone who has liked your profile |
| | | ✅ See public answers from a profile before you answer them |
The contrast is clear between Zoosk vs. OkCupid when it comes to paid subscriber features. OkCupid offers far more perks than Zoosk, even with its basic paid membership. Zoosk's paid membership primarily adds messaging functions, which come as standard on OkCupid.
What Zoosk does offer on top of the basic OkCupid paid option is seeing who has liked your profile–available on OkCupid Premium. Besides that, OkCupid's paid memberships are definitely more feature rich than what Zoosk offers.
In-app purchases
On top of the paid subscriptions, both dating apps also offer temporary boosts and virtual items, which you can acquire by either using internal coins on Zoosk or in-app purchases on OkCupid.
Zoosk Coins allow you to get more views, buy virtual gifts, see who has matched with you on the Tinder-like Carousel feature, and get read receipts for messages you've sent.
In-app purchases for OkCupid are present as Boosts. These can be bought individually or in packs and they push your profile to the top of searches, feeds, and matches to get you more views.
Which dating app is cheaper? Zoosk vs. OkCupid
Zoosk subscription pricing sits somewhere between OkCupid's entry-level and premium paid plans. It's cheaper than OkCupid Premium but more expensive than OkCupid Basic.
Zoosk vs. OkCupid price comparison
Compare the prices between Zoosk vs. OkCupid below.
| | | | |
| --- | --- | --- | --- |
| | Zoosk Paid Subscription | OkCupid Basic Paid Plan | OkCupid Premium Plan |
| 1-month option | £20.83 per month | £24.18 per month | £32.26 per month |
| 3-month option | £12.49 per month | £16.13 per month | $21.50 per month |
| 6-month option | £8.33 per month | £12.09 per month | $16.12 per month |
| 12-month option | £8.33 per month | n/a | n/a |
*Pricing provided for illustrative purposes based on available information at the time of writing.
Zoosk is cheaper than OkCupid Basic and Premium. Prices are much closer between the Zoosk and OKCupid Basic subscriptions for the 1 and 3-month options.
If you are looking for the most features for your money then OkCupid Premium is your best bet. Its feature list is the most comprehensive out of all the paid options offered by Zoosk or OkCupid.
Which dating app is better for you? Zoosk vs. OkCupid
Take a look at what each dating app has going for it as well as areas where they could do better.
Zoosk pros and cons
These are the benefits and drawbacks of using the Zoosk dating app.
| | |
| --- | --- |
| Pros | Cons |
| ✅ Streamlined and convenient sign-up process | ❌ Messaging isn't free after the trial period |
| ✅ Special features like Zoosk Carousel and Smart Picks | ❌ Virtual gifts and Zoosk Coin offers can be confusing to understand |
| ✅ Familiar, user-friendly dating app design | |
OkCupid pros and cons
These are the advantages and disadvantages of using the OkCupid dating app.
| | |
| --- | --- |
| Pros | Cons |
| ✅ Key features like messaging unlocked for free users | ❌ You need to answer lots of questions to get the most out of OkCupid |
| ✅ OkCupid Basic paid plan is good value for money | ❌ Some users may find sign-up and profile creation tedious |
| ✅ 4.2 out of 5 App Store review score | |
Zoosk vs. OkCupid: final thoughts
Both Zoosk and OkCupid are good options for meeting someone online. Which one you choose depends on whether you like a more gamified dating app approach. If you do, then Zoosk is a better option. If you want to focus more on finding compatible profiles, then OkCupid is better suited to your needs.
Both dating apps have everything you need to view profiles and match with people, but only OkCupid offers completely free messaging. If you're undecided, why not try both?
Zoosk vs. OkCupid FAQ
You can find answers to common questions below
Is OkCupid better than Zoosk?
OkCupid is better than Zoosk if you don't want to pay for messaging. If you don't mind paying, then Zoosk offers a more streamlined and gamified online dating app experience.
Is Zoosk legit?
Zoosk is definitely a legitimate dating app. The dating service has been around for many years and is backed by serious investors. Zoosk has robust online security policies to make sure user profiles are valid.
Which dating app will help me get married, OkCupid or Zoosk?
Both apps will help you get married, but OkCupid is more likely to help you tie the knot because of its focus on deeper search features. That doesn't mean you can't find the love of your life on Zoosk. Anecdotal evidence shows that many married couples have met on Zoosk too.
Which is cheaper: OkCupid vs Zoosk?
Zoosk is cheaper than OkCupid. While both are reasonably priced, only OkCupid offers all the basic features you need for free online dating. It's worth signing up for both (using the buttons above) to see if they have any deals you can take advantage of.
Dating apps compared