While there's been a scarcity of queer representations in media for a really long time, the 2010s have been the years of diversity and celebrating LGBTQ+ pride also in the Hollywood sphere. Hence, some great gay, lesbian and trans* movies have popped up in abundance in recent years.
Whether you're planning to have a chill Netflix night with some of your friends from the community, you simply want to educate yourself or you're seeking for the right film to watch with your LGBT date, we show you some of the best motion pictures to choose from.
Our selection goes beyond the usual suggestions of Brokeback Mountain and Philadelphia. Read on and discover which must-sees you've probably never heard of.
Let's get political with Pride (2014)
British humor and a pack of London queers coming to support a small Welsh miners community in the protests against Maggie Thatcher – if that doesn't sound like an amazing potpourri of activism, gay history and entertainment.
Based on the real life events involving activist group LGSM (Lesbians and Gays support the Miners) and the mine workers of Onllwyn, Wales, the film tells a story about union, friendship, love and pride parades.
Want to know all about LGBTQ+ relationships? Check out our guides and articles.
But besides touching scenes of allyship and bonding between two marginalised groups, the plot adds a bittersweet note to its peak, the "Pits and Perverts" benefit concert. Following the real story of LGSM's co-founder Mark Ashton, Pride also covers the threat of HIV in the UK's 80s.
All in all, Pride is on top of our ranking list because it's a movie to laugh, to cry and to reflect upon. Perfect for every active member of the LGBTQ+ community.
The best Gay Movies
Award-winning masterpiece Moonlight (2016)
If you're looking for a light-hearted gay romance story which you can watch on your first Tinder date with another gay singleton, Moonlight's probably not the movie you want to choose.
Despite that, it's definitely a film you just have to see.
We're introduced to the protagonist Chiron, following three stages of his life as a neglected Queer BPOC in Miami. In his early childhood, he meets Juan, an Afro-Cuban drug dealer who seems to be the first person to genuinely care for him.
It's a beautiful yet tragic coming-of-age story paired with the brutality of lower-class Florida that explores the topics of sexual exploration, identity struggles and physical and emotional abuse.
As the movie of the year in 2016, Moonlight was the first film with an all-black cast as well as the first LGBTQ film to win an Oscar for Best Picture and marks a pivotal achievement for queer POC.
Call Me By Your Name (2017)
Call me by your name was a huge deal-breaker and still remains a lot of LGBT-members' favorite movies up until today. Luca Guadagnino has created an aesthetically pleasing adaptation of André Aciman's novel which is not only eye-candy but also an emotional roller coaster.
Set in Italy with the warm summer romance vibes of the 80s, we witness the affair between 17-year-old Elio and the seven-years-older Oliver from America.
Timothée Chalamant, who plays Elio, showcases a heartthrob performance that really has your heart clenching at several points of the story.
Maybe it's remembering the feelings and the pain of your first crush that makes so many people adore this movie, maybe it's the very real and very sensitive depiction of first gay love, but it's for sure that you should delve into the dreaminess of Elio and Oliver's homosexual liason once in your lifetime.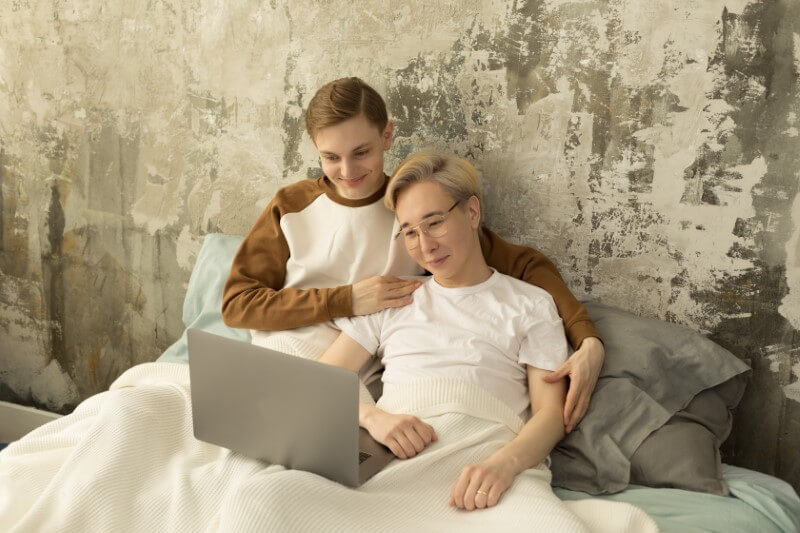 Our top picks for Lesbian Films
Go Fish (1994)
With Go Fish the writers Guinevere Turner & Rose Troche, who were also a couple at that time, have made one of the best lesbian romance movies of the New Queer Cinema movement.
In the comedy/drama, we see an adorable relationship between the hip college student Max and wallflower Ely bloom on screen. The movie is a celebration of lesbian culture in all forms and shapes and additionally touches upon topics ahead of its time like body positivity and butch-femme identities and gay bashing.
Filmed on a low-budget with Turner herself starring as one of the main characters of a lesbian girl clique, the film broke the conventions of LGBT movies at the time being.
As one of the few 90s movies where the queer/lesbian characters didn't die at the end, Go Fish feels like a talk between best friends. There are sequences of the friend group of the protagonist commenting on the main story.
Truth be told, the narrative style might be too artsy and poetic and sometimes even too harsh for some viewers, which is without doubt one of the conventions of New Queer Cinema films, but if you give Go Fish a chance, you'll be perfectly able to identify with one of the characters.
Carol (2015)
Two women in the 1950s New York, both trapped in a life that doesn't fulfill them, fall in love and develop a vibrant yet doomed lesbian relationship. One of them, Carol: rich, mature, glamourous and married. The other one, Therese: young, clever and a talented photographer who's too good for her current job in a department store.
Repeatedly praised not only by viewers of the LGBT+-community as being one of Cate Blanchett's supreme performances, the romantic drama movie about forbidden lesbian love is a feast for the eye and a shelter for the heart.
If you're searching for a movie to watch with your girlfriend or your lesbian date, Carol's certainly going to get you in the mood for some closeness.
Carol's director Todd Haynes is a big name in the LGBTQ+ movie industry and has contributed to some of the best queer screenplays of all time, such as Swoon (1992) & Poison (1991).
Want to know who our top picks for the most popular lesbian couples are? See our ranking here!
Must-Watch Trans* Movies
Tangerine (2015)
It's hard to find a movie suiting for a rendezvous with a trans* person, but maybe Tangerine is a good fit.
In this queer dramedy, trans* sexworker Sin-Dee is released from prison and discovers her boyfriend (who's also her pimp) has cheated on her with a cis woman. Enraged by his audacity to start an affair while she was away, Sin-Dee walks off to get revenge.
The whole movie was filmed on three iPhone S5, underlining the rough patches of the life of Sin-Dee in the streets of L.A. Its vibe is feisty, blunt, hilarious and stirring at the same time, nothing for people who can't handle ruthless slang, though.
What's really gotten Tangerine on our best LGBTQ movies list, though, is that the story is concerned with trans* issues without making it the main root for problems of the protagonist.
Although we wouldn't describe Tangerine as a cheerful film that makes you want to snuggle up in a blanket with your crush and gush over its fluffiness, at least it won't make you want to coil up in your room and cry over the cruelty of the world.
We don't practice bi-erasure. Find your better half with our list of bisexual dating apps.
Boys Don't Cry (1999)
You should only watch Boys don't cry if you're in the right mood to get your heart broken.
Based on the life Brandon Teena, a transgender man who was a victim to a brutal hate crime just when he seemed to have found love and himself, Boys don't cry is an essential title of the best LGBT-movies and trans* media representation.
Hilary Swank portrays Teena in a moving and very relatable way, despite not being transgender herself, which got her the Best Actress Oscar in 2000.
We recommend this film for its top portrayal of gender performativity, intersections of class, gender and race, and the realness of discrimination that queers face in a heteronormative world.
Nevertheless, for the sake of your safety, we utter a trigger warning since Boys don't cry depicts graphic scenes of sexual violence.
For Teens & Young Adults: Love, Simon (2018)
You know queer topics have arrived to the public agenda when they're made into a family-friendly teenage romcom. Love, Simon, an adaptation of Becky Albertalli's book Simon vs. the Homo Sapiens Agenda, is a cheerful coming-of-age & coming-out story for young and old.
Simon is an ordinary teenage guy with a stable and supportive family and friend group. Despite this, he keeps his homosexuality a secret until he meets Blue, a mystery guy from his school who seems to have the same secret.
They fall in love via email and the story goes on to revolve around the mystery identity of Blue and Simon's journey to come to terms with his sexuality.
It's encouraging for especially young gay movie fans how even someone within a very open and liberal social environment is struggling to come out. And of course, it is even more empowering to witness him being able to overcome those doubts eventually.
Now that you know all about which queer movies you should watch on your next date, you might want to check out our ranking of another film genre: affair movies.
The best sites that cater to LGBT dating
Find the top recommended sites for people looking at LGBT dating, both serious and casual around the UK.
Elite Singles
Over 13 million active users on the site
Intelligent matchmaking based on background and interests
85% of members have a professional background
Academic Singles
Matches based on questionnaire for attitude, opinions, desires, and expectations
Get your questionnaire, personality assessment, and matches all completely free
Aimed at the educated crowd and focused on helping you meet your special someone
Silversingles
Best for: Authentic 50+ matchmaking
Free membership: Free registration, limited
Users: 60,000
eharmony
#1 trusted dating app in the UK
For serious, long-term relationships
Free registration
Flirthits
Perfect for: People looking to flirt and starts things off in a fun way
Find someone in your neighbourhood
Chat with like-minded singles straight away
SingleSlavic
Fun chat function that lets you send texts, voice notes, pictures, gifts and more
Great search function
The place to find like-minded people who are looking for meaningful relationships
Immediate support from professional team
1000s of profiles
EliteCupid
Personality assessment for enhanced screening

Global reach. Match with like-minded singles all over the world

Meet your equal in values, lifestyle, and career ambition
Ulla
Ignite romance right in your vicinity
Enjoy exact matching thanks to accurate filters;
And explore many more benefits that will help you find love!
Pukbo
Offers unlimited messages and great value with a Welcome Offer for the new members
More than a dating site. Gives access to engaging and unique VIP Content for its premium members
Secure. Supports a variety of safe and convenient payment options, like Google Pay and Apple Pay
Only-Flirts
Easy and convenient interface
Perfect for casual dating & hookups
Plenty of members for you to have fun with
Mingl3
Best for: Anonymous and discreet encounters
Free membership: Free registration
Users: Chat with thousands of attractive singles
My Mature Flirt
Engage in romantic conversations of an exciting nature with REBLL Network's premium British dating community. If you are looking for teasingly playful connections, meaningful deeper interactions, or anything in between, you have arrived at your destination! Let us create memorable experiences for you that leave you both satisfied and wanting more. Check out our perks:
Flirty Conversations: Engage in playful banter, exchange virtual surprises, and enjoy interactive charm with potential matches that make your heart race.

Captivating Profiles: Create a profile that dazzles! Share your most alluring photos, fun videos, and witty bio snippets to showcase your unique charm.

Exciting Encounters: Join us at local events, where sparks fly, connections sizzle, and you'll find yourself wrapped up in thrilling moments with other singles in the UK.

Personalized Connections: Immerse yourself in Exclusive Matches, where cutting-edge algorithms work their magic, connecting you with individuals who ignite your interests and desires.

Safety with a Spark: Your safety is our top priority, wrapped in an air of mystery and excitement. Exclusive Matches ensures a secure yet exhilarating dating experience, where you can let your guard down and embrace the adventure.
CupiDates
Large database of Asian and European singles in the UK
Full control of your profile to set your desired privacy settings
Attend virtual events to meet even more members
Ashley Madison
Best for: Open-minded looking for "no strings attached" fun
Free membership: Free registration, limited
Users: 54 million
DateYourGirl
Meet attractive Asian, European, & Latino singles
Quick and free signup
Casual or serious online dating