Although it might seem like the LGBTQIA+ community is a modern phenomenon, lesbians and everyone else within the community have always existed. It can be difficult to trace historical couples, especially lesbian relationships as women weren't written about often in general.
However, this article will share a list of a few notable lesbian couples from history as well as current fictional and real life couples that deserve some of the spotlight.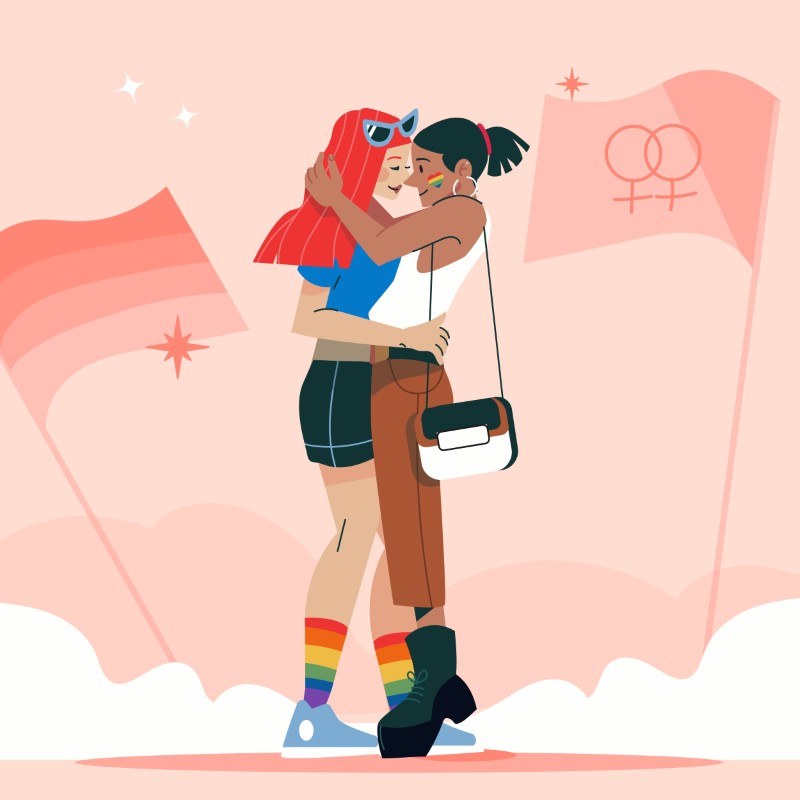 Famous lesbian couples throughout the years
Sappho and her courtesan: Sappho of Lesbos lived from 620 to 570 BCE and was a celebrated poet. Even though only parts of her work still survive, the striking thing about it is her writing exclusively focuses on female same-sex love.
The surviving work from Sappho is about professing her love and affection to an unnamed female courtesan. Sappho has also been credited with being the first Greek poet to write about the feelings of love based on the surviving writings.
Anne Lister and Ann Walker: This couple recently came into the light through the HBO series "Gentleman Jack", but the pair were real people living in 19th century England. Anne Lister, a wealthy landowner, met heiress Ann Walker several times before the couple fell in love in 1832.
Although same-sex marriage wasn't yet legalized, the couple exchanged vows in 1834 through communion at the Holy Trinity Church. The pair lived at Lister's estate until she passed away in 1840.
Ethel Collins Dunham and Martha May Eliot: These two women were already making waves in their time, as both of them were getting their medical degrees from John Hopkins and met each other while attending Bryn Mawr College in 1914.
They continued to go against the grain as suffragettes lobbying for women's right to vote and making waves in the medical world. Dunham was able to change the standards of how hospitals care for newborns and Eliot was the first woman to become a member of the American Pediatric Society and the first female president of the American Health Association.
Leaena and Megilla: This couple appears in the "Dialogues of Courtesans" by Lucien of Samasota from the 2nd century. In the story, Leaena speaks to another woman named Clonarium and asks what it's like to be a lover of Megilla. Clonarium tells her that being with Megilla is much better than being with a man.
Clonarium also tells Leaena that Megilla said her desires are the same as a man even though she was born a woman, which makes historians wonder if Megilla is the first transgender person to be mentioned in written history.
Mabel Hampton and Lilian Foster: Mabel Hampton was a dancer in Coney Island during the Harlem Renaissance and performing for stars of the time such as Moms Mabley and Gladys Bently. Mabel lived openly as a lesbian and eventually stopped dancing to become a domestic servant for the family of Joan Nestle.
Mabel met Lilian in 1932 and the couple lived together in the Bronx on 169th St. Along with calling each other husband and wife, they were active in the Gay Rights movement, owned their own laundry business, and collected a variety of media from the opera performances that they liked to attend.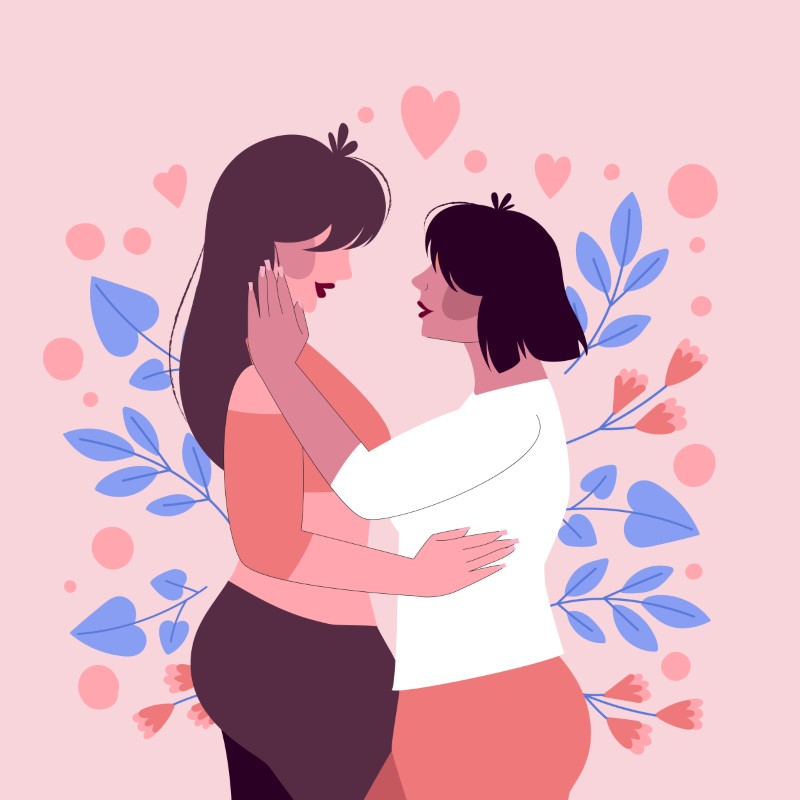 Today's favourite power couples
Celebrity couples always make the news for one reason or another, but it's not often that we hear about the couples that belong to the LGBTQ+ community. Below, we'll share a list of some notable lesbian celebrities and their partners.
Kristen Stewart and Dylan Meyers: Stewart met screenwriter girlfriend Meyers about 6 years ago, but it's unclear how they met and what project Meyers was working on at the time. Nonetheless, their relationship remains strong despite Stewart being quite private about her life.
In an interview earlier this year with Stewart as part of her movie release Spencer, she said that she was ready to propose to her girlfriend but didn't give any time on when that might happen.
Sarah Paulson and Holland Taylor: Paulson and Taylor have been dating since 2015 and their 32 year age gap doesn't hold them back. Since they got together, the pair have been vocal about their love for one another and also trying to bring awareness to age gaps in relationships.
Despite their age, Paulson and Taylor's relationship was kick started from Twitter after they followed each other following an event that they both attended. Paulson confirmed in an interview with Billy Eichner that Taylor had "slid into her DMs".
Samira Wiley and Lauren Morelli: The show Orange is the New Black brought the couple together as Wiley is an actress on the show, and Morelli is a writer. Wiley explains that entering into a relationship with Morelli came as part of Morelli discovering who she was as she hadn't quite come out yet.
Wiley and Morelli have been married since 2017 and now have a daughter named George that was born in 2021.
Jodie Foster and Alexandra Hedison: Foster married photographer Hedison only a year after meeting each other in 2013. Before getting into a relationship with Foster, Hedison previously dated Ellen DeGeneres before she got with her current partner Portia de Rossi.
Foster tends to be much more private than her wife, but Hedison likes to recognize Foster for her various achievements through her Instagram account, such as when Foster won a Golden Globe award this year.
Jojo Siwa and Kylie Prew: Siwa originally shot into stardom from being on Dance Moms in 2016 and has now also grown a following on TikTok. Siwa and Prew allegedly met each other on a cruise in 2019, originally becoming friends and then entering into a relationship a year later in 2020.
Prew is a social media influencer and internet personality. She has been supporting Siwa through her appearance on Dancing With the Stars through her Instagram.
Wanda and Alex Sykes: Wanda and Alex met each other in 2006 while on a ferry ride to Fire Island in New York. Two years later, the couple married in 2008 which is the same year that Wanda came out publicly in an effort to help support marriage equality.
The most precious addition to their family is their fraternal twins who were born in 2009, named Olivia and Lucas.
Fictional lesbian couples we fell in love with
Arizona and Callie (Grey's Anatomy): As one of the longest-running TV shows, many people have seen at least some of Grey's Anatomy. It's a medical drama show that features various characters including Dr. Arizona Robbins and Dr. Callie Torres that have had one of the longest lasting relationships on the show.
Piper and Alex (Orange is the New Black): Another popular show named Orange is the New Black is a comedy-drama set inside of a federal prison that features a diverse cast of women. Despite Piper being imprisoned from transporting drug money to Alex, the two characters end up in a relationship and survive prison together.
Jamie and Dani (Haunting of Bly Manor): Described as "a love story with ghosts in it", the plot of Haunting of Bly Manor is about a young governess who was hired by a man to look after his niece and nephew that he is taking care of at the family's country house. Dani, the governess, begins to see ghosts that haunt the house and soon goes on an adventure with Jamie (the gardener) to find out what's happening at the residence.
Emily and Sue (Dickinson): Dickinson is a TV series that is based on the real life of writer Emily Dickinson as the show explores the constraints that women were faced with in regards to society, gender, and family within the 19th century. Emily Dickinson was known to have had a strong relationship with her sister-in-law Sue, and historians believe she was actually in love with her. This show explores this supposed relationship.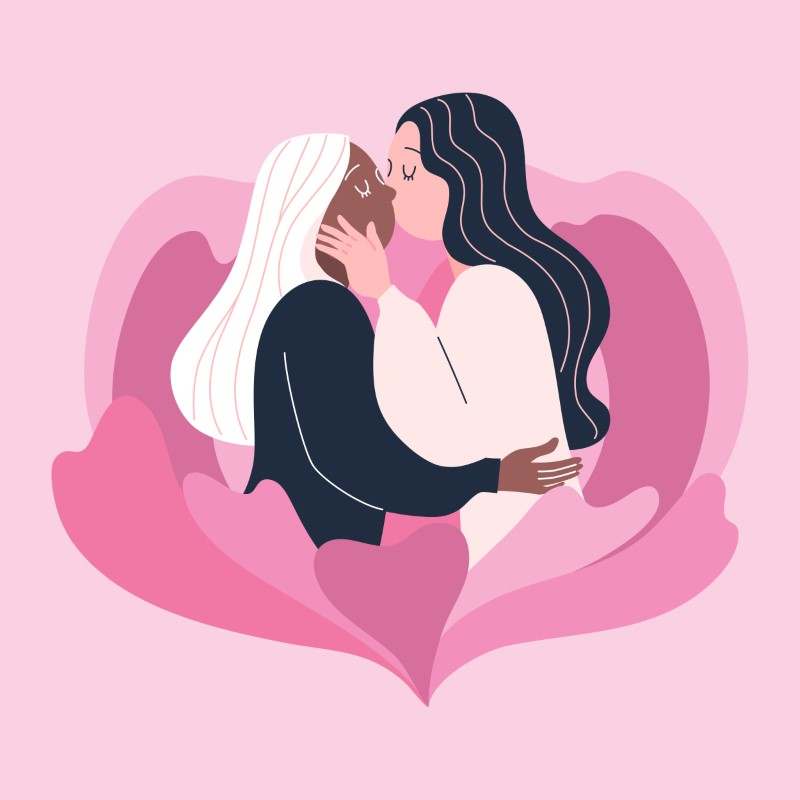 Why we need more lesbian representation in media
From a recent GLAAD study that was done on the films released in 2019 that investigated the LGBTQ+ inclusivity percentages. It states that out of 118 films released that year, 22 of them included LGBTQ+ characters.
The report also mentions that transgender characters weren't included for the third year in a row, and there has been a decrease in lesbian and bisexual representation compared to gay men. There were nearly twice as many gay men represented in the films (15) versus lesbian (8).
Another issue is out of the 22 films that had LGBTQ+ characters, only 9 of the films gave the characters more than 10 minutes of screen time. When considering how much time other characters may have in the movies, 10 minutes is not much time at all.
Representation and queer media activism is important for everybody as it adds validity to a person's identity and helps to give them someone to relate to. The issue of representation is not only just for LGTBQ+ people, but also there's an ongoing issue to have more representation for people of colour.
What makes a successful lesbian relationship?
Virtually all advice you may encounter about how to have a successful relationship can also be applied within a lesbian relationship. Just because your sexuality is different doesn't mean that the advice is also different.
One of the most important parts of any relationship is effective communication. Make sure that you and your partner discuss many things such as any limitations, morals, and sort out disagreements that you may have as a couple. It's also important to voice any concerns in a constructive and healthy way.
Something that can be applied better to LGBTQ+ couples is to be aware of whether or not your partner is out of the closet yet. It's certainly possible to date someone that's in the closet, but the most important thing is to be respectful of their boundaries and not "out" them to anyone that doesn't know about their sexuality as it can have a negative effect on their life.
An interesting piece of advice that especially applies to same-sex couples that may be looking to build a family is that family doesn't need to be blood. For a cisgender lesbian couple looking to have children, try to not become discouraged about not having a child that's biologically part of both of you as what matters is the love that they experience by their family. Even if you decide to adopt, the most important thing is to love and care for that child.
Lesbian relationships are the better ones and here's why
One of the reasons that lesbian relationships can be considered "better" than a straight relationship is the simple fact that women already understand the needs of other women. Even though it's obvious that not every woman is the same, there is a general sense of understanding that could be missed within a straight relationship.
The study is now a bit dated as it was done in 2014, but there was a study published to BMC Women's Health that compared lesbian and straight couples and it suggested that lesbian couples had more satisfaction in their relationships. Is it scientifically proven that lesbian relationships are better? What do you think?