If you're a woman that identifies as bisexual, pansexual, or queer, there's a good chance that you may have come across people on bi dating apps that are looking for a "third". Depending on what you're looking for on these apps, it can be annoying to always be faced with people that are searching for their "unicorn".
It can be difficult enough to find one person to date, especially if a woman is seeking out another woman. This can often feel like it's opening the door for unicorn hunters to swoop in and try to pull you into their relationship. So, what exactly is a unicorn, and what are unicorn hunters?
Find your unicorn at the best LGBT dating sites
Get started in your online journey to find your partner at the best LGBT dating sites in the UK.
Elite Singles
Over 13 million active users on the site
Intelligent matchmaking based on background and interests
85% of members have a professional background
Academic Singles
Matches based on questionnaire for attitude, opinions, desires, and expectations
Get your questionnaire, personality assessment, and matches all completely free
Aimed at the educated crowd and focused on helping you meet your special someone
Silversingles
Best for: Authentic 50+ matchmaking
Free membership: Free registration, limited
Users: 60,000
eharmony
#1 trusted dating app in the UK
For serious, long-term relationships
Free registration
Flirthits
Perfect for: People looking to flirt and starts things off in a fun way
Find someone in your neighbourhood
Chat with like-minded singles straight away
SingleSlavic
Fun chat function that lets you send texts, voice notes, pictures, gifts and more
Great search function
The place to find like-minded people who are looking for meaningful relationships
Immediate support from professional team
1000s of profiles
EliteCupid
Personality assessment for enhanced screening

Global reach. Match with like-minded singles all over the world

Meet your equal in values, lifestyle, and career ambition
Ulla
Ignite romance right in your vicinity
Enjoy exact matching thanks to accurate filters;
And explore many more benefits that will help you find love!
Pukbo
Offers unlimited messages and great value with a Welcome Offer for the new members
More than a dating site. Gives access to engaging and unique VIP Content for its premium members
Secure. Supports a variety of safe and convenient payment options, like Google Pay and Apple Pay
Only-Flirts
Easy and convenient interface
Perfect for casual dating & hookups
Plenty of members for you to have fun with
Mingl3
Best for: Anonymous and discreet encounters
Free membership: Free registration
Users: Chat with thousands of attractive singles
My Mature Flirt
Engage in romantic conversations of an exciting nature with REBLL Network's premium British dating community. If you are looking for teasingly playful connections, meaningful deeper interactions, or anything in between, you have arrived at your destination! Let us create memorable experiences for you that leave you both satisfied and wanting more. Check out our perks:
Flirty Conversations: Engage in playful banter, exchange virtual surprises, and enjoy interactive charm with potential matches that make your heart race.

Captivating Profiles: Create a profile that dazzles! Share your most alluring photos, fun videos, and witty bio snippets to showcase your unique charm.

Exciting Encounters: Join us at local events, where sparks fly, connections sizzle, and you'll find yourself wrapped up in thrilling moments with other singles in the UK.

Personalized Connections: Immerse yourself in Exclusive Matches, where cutting-edge algorithms work their magic, connecting you with individuals who ignite your interests and desires.

Safety with a Spark: Your safety is our top priority, wrapped in an air of mystery and excitement. Exclusive Matches ensures a secure yet exhilarating dating experience, where you can let your guard down and embrace the adventure.
CupiDates
Large database of Asian and European singles in the UK
Full control of your profile to set your desired privacy settings
Attend virtual events to meet even more members
Ashley Madison
Best for: Open-minded looking for "no strings attached" fun
Free membership: Free registration, limited
Users: 54 million
DateYourGirl
Meet attractive Asian, European, & Latino singles
Quick and free signup
Casual or serious online dating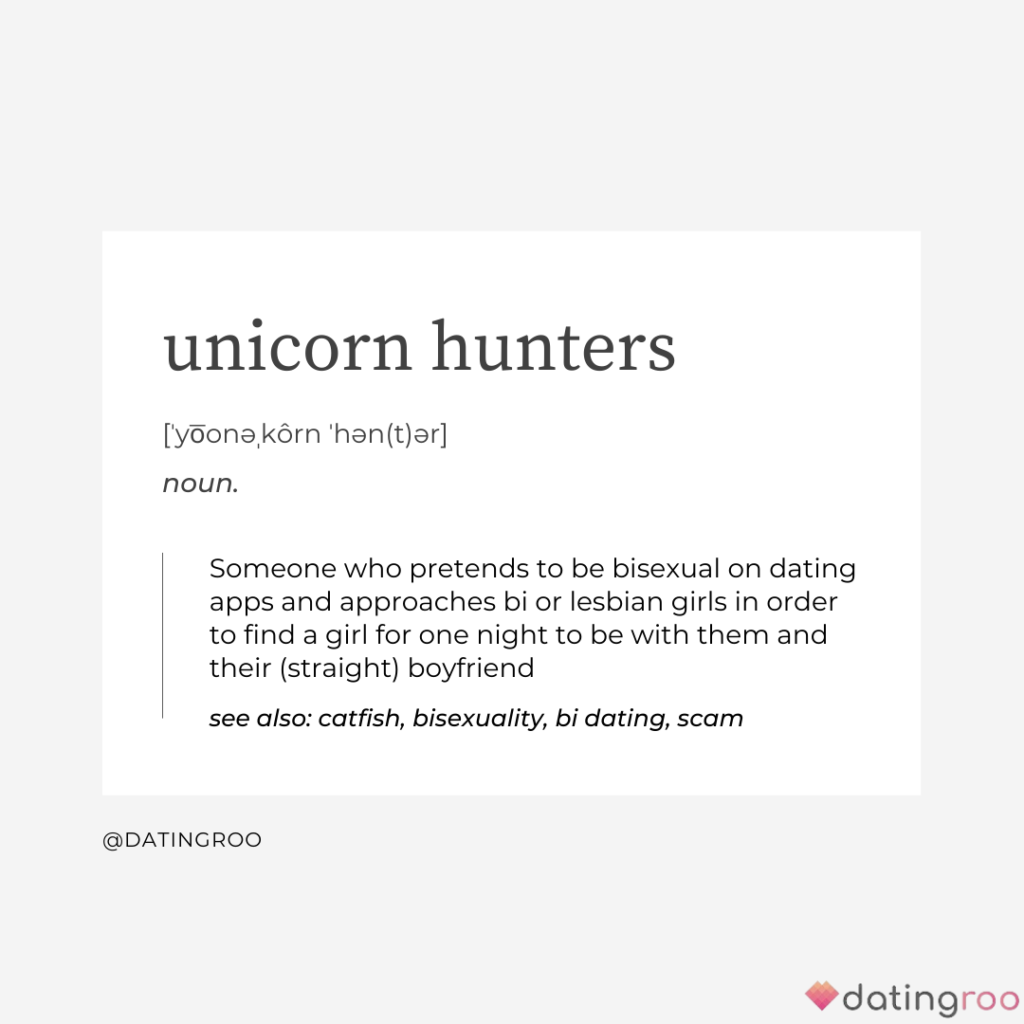 What are unicorn hunters?
The term "unicorn hunters" has been given to generally heterosexual couples that are looking for a "third" person to have a threesome with. Most times, the couple is looking for another woman which leads many people to believe that the dynamic has been set up to benefit the man more than the woman in the couple's relationship.
Despite common misconceptions, unicorn hunting is different from polyamory. When a couple is looking for a "unicorn", it usually comes with the intention of experimenting within their own relationship and often doesn't go beyond a hookup.
The reason the person that the couple is looking for is called a "unicorn" is because the unicorn hunters are expecting to find someone that meets all of their expectations, like a needle in a haystack.
Usually, the person they are looking for is a bisexual woman that is attracted to both people in the couple, but won't interfere with their pre-established relationship.
Even if the other person is polyamorous, the expectation that they will remain an outsider within the threesome can easily become a toxic situation. All humans desire some kind of connection, and it doesn't feel good to be on the receiving end of a power struggle that was designed only for the original couple's benefit.
You're bisexual, looking for a date and don't know how to start? We provide you with the best advice on how to date as a bi person.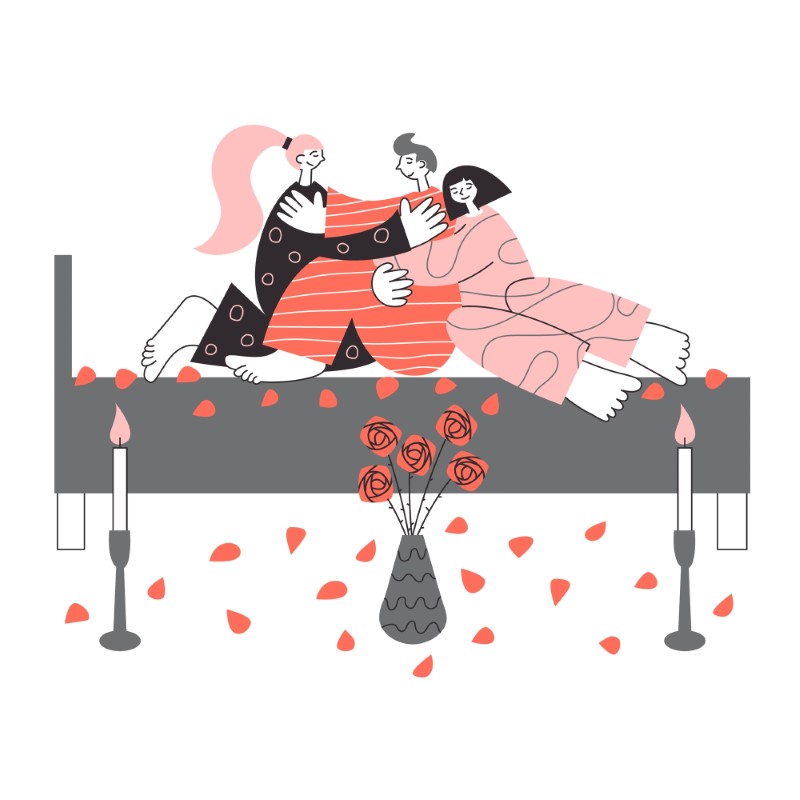 The problem with unicorn hunters in online dating
We've defined what unicorn hunters and unicorns are, now let's get into some of the issues that they cause in the bi dating scene.
There are some identifiable red flags involved with unicorn hunters beyond specifically seeking out bi and queer women.
One of these red flags is it is often the woman in the couple that makes the dating app profile and tries to connect with other women. A common issue is the woman isn't always upfront about her male partner or their intentions with finding a third person.
Secondly, the other partner is often a straight man, which people in the queer community argue leads to fetishization of bi, pan, and queer women. The two women with one man dynamic also seems to cater more to the man's women loving women kink and is the most commonly depicted threesome across various media sources.
Another red flag with unicorn hunters is the endemic lack of transparency both on their dating profile, and when they begin to talk to the outside person.
As we mentioned earlier, one of the ways their intentions can be hidden is the profile only showing the woman of the couple and not showing much if anything about her partner. Even if both people are shown on the profile, they might not be clear about what their intentions are and whether or not they are specifically looking for a hookup.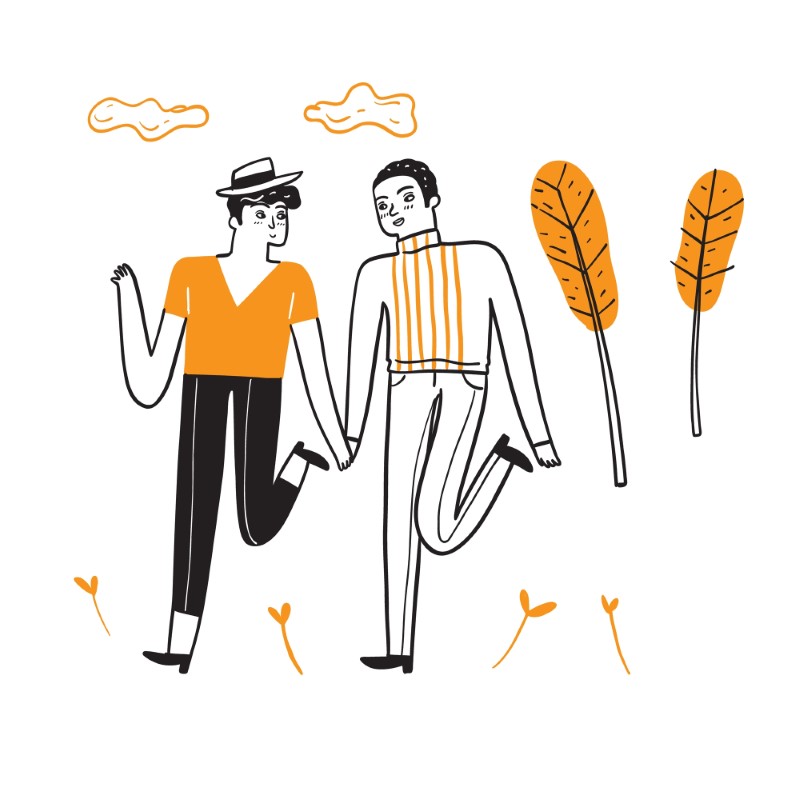 According to a small survey done by Bi.org, only 64% of individuals that took the survey said that unicorn hunters that they encountered on dating apps were upfront about their intentions. However, another 34% of people reported that the couples are generally vague, deceptive, or coercive.
Based on some of the personal stories on Bi.org from people that were "unicorn hunted", some of them claimed that they weren't aware that one person they were talking to were already in a relationship and only started to be coerced once they met up with them in person along with their partner that was never mentioned.
To summarize, the biggest issues with unicorn hunters is their tendency to search for bisexual, pan, and queer women, not being upfront about their sexual relationship intentions, and creating a power dynamic that doesn't let the third person into their relationship in the same way polyamorous people would.
How to react if you spot a unicorn hunter
How you choose to react can depend on the location and your comfort level. For example, if you're at a bar and see someone being approached by two different people and they're showing discomfort, you can help take them away from the situation or report it if you feel safe to do so.
On the other hand, if you're approached in public, you can always leave the situation if you feel unsafe or ask someone else for help.
If you're using dating sites or apps, it can be more limited on how you can respond depending on the restrictions that those sites put in place. Many dating apps don't allow users to message each other without matching first.
If you did match with someone and you discover that they are a unicorn hunter and it's not something you're into, you can simply let them know you're not interested. If needed, there should be an option to block that user from messaging you if you feel uncomfortable.
Even if you match with someone or agree to meet up somewhere for the first time, you don't need to be held under an obligation to do so. If you feel uncomfortable or unsafe, especially if the situation changes, you don't need to continue seeing that person.
If someone meets up with you without telling you they were already in a relationship and the other partner shows up, that isn't consensual.
How do I meet other bi singles for serious relationships?
Technically, you can meet bi women and men anywhere in the world. You don't have to be limited to specific places, but there is some truth in it being a bit easier to find mutual interests in people online. This is partly why free lgbtq+ dating sites and apps have become so popular.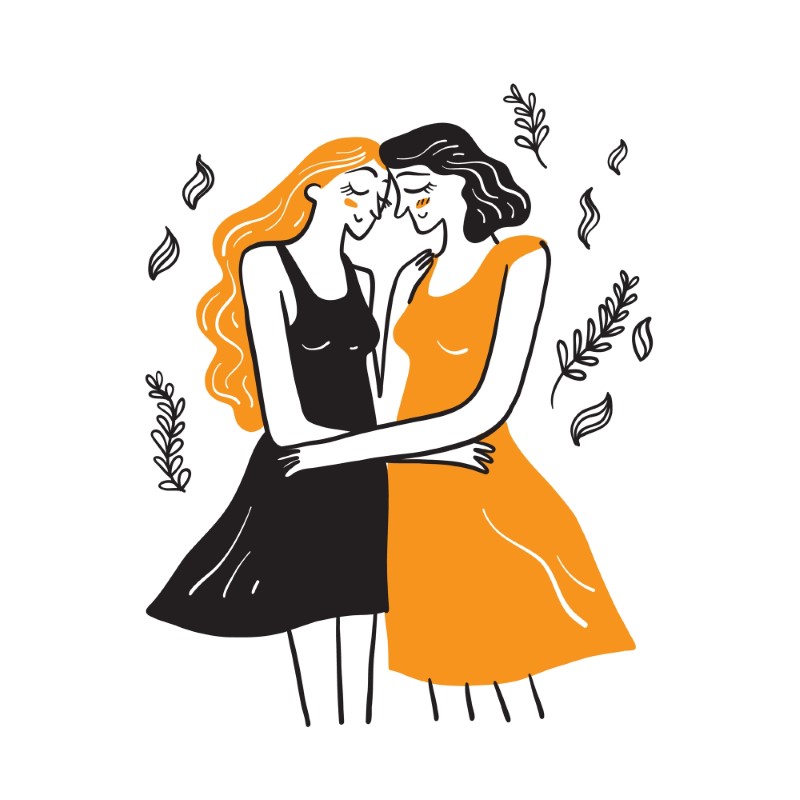 If you're not interested in using dating apps but you're trying to find other people from the bi or LGBTQIA+ community to date, try looking for clubs or events that are set up by other LGBTQ people.
Another option is to see if there are any gay or queer bars in your area. Even though gay bars are historically safe spaces for gay people, many of them have become a welcoming place for everyone, regardless of your sexuality or gender identity.
If you decide to use a dating app, it might be a good idea to write in your profile that you are looking for a serious relationship or are not interested in casual sex. By stating that in your profile, it can hopefully deter unicorn hunters or anyone else that might not be looking for serious relationships.
The best dating apps for bi people
​​​​What are the best dating apps for bi people to use? There are many different apps out there, all with their own similarities and differences. Below, we will list some of the apps that we believe can be the best for bi, pan, and queer people to use.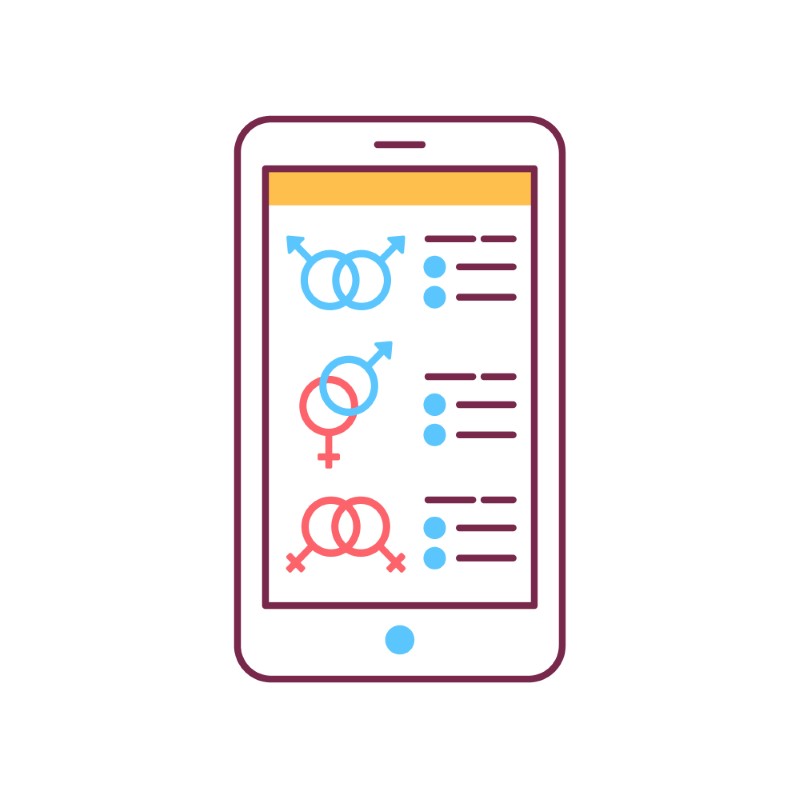 OkCupid: This app is catered towards people that are looking for more serious relationships. OkCupid has a fairly inclusive list of sexuality and gender options to choose from, and comes with an interesting feature that they call "Match Questions".
They claim to have around 4,000 different questions you can answer to display on your profile, that you can also compare to other people as you're swiping through their high number of users. With those questions, it should make it easier to find people that you share interests and values with.
Bumble: If you're a bi woman that would like to make the first move, Bumble might be perfect for you. This app is designed for the woman to message their match first, which provides a level of control and to avoid the user from being flooded with unwelcome messages.
Hinge: With their slogan, "The dating app designed to be deleted", Hinge is another app that is made with the intention to bring people together that are looking for long-term relationships. A few ways that Hinge stands out from other dating apps include features such as being able to change your location for free, and setting "deal breakers" to hide anyone that doesn't match your search criteria.
Tinder: Tinder is one of the most popular dating apps, but it also has certain reputations. It allows you to freely type in your gender identity and sexuality, but that is one of the only "bi friendly" features.
Because Tinder is so popular, there are many different types of people that use the app, and it also has a reputation for being a place to find hookups. Especially when using Tinder, it may be a good idea to specify that you are looking for a serious relationship.