Single Muslim is a popular Muslim dating site in the UK. It has almost 1.5million UK users, and 2.25million international members.
Alternatives to Single Muslim
Since its launch in 2000 by Adeem Younis, Single Muslim has been the catalyst for 50,000 marriages, which is pretty impressive. It's run by Muslims, for Muslims, and our review of Single Muslim found great care is taken to follow the fundamental principles and values of Islam.
Are there any downsides to what seems to be a successful, and values-driven dating site? We've done an in-depth Single Muslim review to find out.
Our Summary
Single Muslim is dedicated to preserving Islamic values, and to providing help for any observant single Muslim to contact people, with a definite aim of finding a long term partner. As our review shows, it's more than an online dating platform; it's a marriage and shaadi introduction service, and this is clear from the outset.

This is really well described by Single Muslim's founder Adeem Younis, "People call it Halal dating. That's fine. Halal means being wholesome and right in your faith."

Research for our review shows the only other major sites that are anywhere near as popular in the UK are Mehndi and Shaadi. Reviews show Single Muslim seems to stand out for its practical but fun attitude.

The site is an alternative to single Muslim events, which reports show can be expensive for the user, and can be a high-pressure environment.

The service offered by Single Muslim can help users to make contact at their own pace, and to be clear about preferences, especially in terms of religious practice.

The fact that the company has developed the Single Muslim App means it's easy to search for your partner while you're on the go, so it's ideal for the busy professionals who use the site.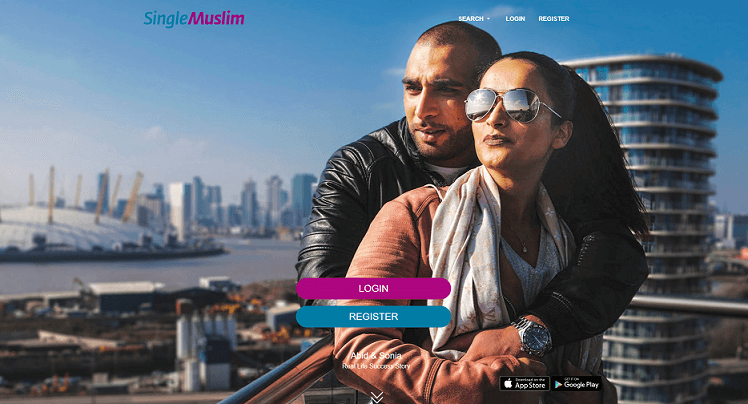 Religious beliefs
A big part of our Single Muslim review was looking at how it works with users' religious beliefs. We can report that what we found was really positive.
As well as following the sharia, Single Muslim is completely on board with traditional methods of finding a partner and makes provision to help family or friends sign up and drive the match-making process, as well as allowing individuals to act on their own behalf.
What Single Muslim tries to do – with pretty good results – is appeal to all users without creating an environment that is in any way haram. There are some who feel the site fails on this front, but these are few and far between.
We especially love the emphasis Single Muslim places on celebrating marriage, which is demonstrated by the offer of Umrah for any couples who find their match on Single Muslim.
The trip is free, with the only stipulation being that couples allow a video of their visit to Mecca to be used for marketing. You can see a lot of these on the site, and they're pretty inspiring success stories.
We think the best testament to the effectiveness of Single Muslim is that it's founder Adeem Younis found his own happy marriage through the site. You can't get a better guarantee of success in your search than that.
🆓 Free services and paid-for services
What do you get for free?
The initial sign up to Single Muslim is free. You can browse photographs and see detailed profiles as well as clicking the heart icon to send your approval to someone, which also adds them to your contacts.
From our review, we can report that's as far as free membership to Single Muslim goes. To be able to see who's liked you, or to view potential matches, you have to be a Gold member.
Single Muslim is free for women, and they can enjoy most of the features of Gold membership, except seeing who's liked them, or viewing matches.
Gold membership – what do you get for upgrading?
Send and receive messages using the instant messenger feature
Reply to other users
See who's viewed your profile, and who's given you those all-important likes
Save your favourite searches
View your matches
See who's read your messages
Priority support for Gold Members
💰 Prices
How much does Gold membership cost?
| | | |
| --- | --- | --- |
| | Monthly price | Total |
| 1 month | £29.99 | £29.99 |
| 3 months | ~ £20.00 | £59.95 |
| 12 months | £10.00 | £120.00 |
There aren't any refunds for your membership, so if you find your match in record time, you'll have to keep your membership until it expires. This isn't really clear on the site and it's one of the main recurring complaints.
How to pay?
You can use bank transfer, credit card, cash or cheque.
💡 How to reduce costs at Single Muslim?
Research for our review shows the main way to reduce costs at Single Muslim is to sign up for a longer period of time. This will save a fair chunk, especially if you sign up for a year.
Your Gold membership can't be cancelled until the end of the sign-up period, so if you find your perfect match really quickly you won't get your money back. A small price to pay for love, perhaps?
📊 Membership structure
Single Muslim has 2.25million members worldwide, and just under 1.5million members in the UK. It caters for everyone over eighteen and welcomes men and women. There are 1.4million visitors to the site a month and 110,000 new members each month, so it's certainly pulling in plenty of potential matches.
A key feature of Single Muslim is that in keeping with Islamic traditional methods, it's possible for a family member or friend to sign up with the aim of finding a partner for another person.
✍️ Registration
This part of the Single Muslim sign up process can feel a little tedious compared to other online dating platforms. There's a lot of detail, all designed to make sure the contact works on all levels, religious, personal and practical. It's this level of service that makes it different from other dating sites.
How to register?
Step-by-step guideline
Log-in

Log on to singlemuslim.com

Provide your details

Fill out your details, name, email, country, etc.

State the purpose of registration

Say why you're registering. This is where you indicate if you're a sister looking for a partner for her brother, an uncle looking for someone for his niece, and so on.

Complete your profile.

As well as basics about your interests and appearance, you can add details about religion, including how religious you are, whether you prefer your partner to have a beard, wear a niqab, follow Halal and perform Salah. You can also include aims for nikah and thoughts on having children.

Finally, upload your pictures

You can add up to 12 pictures, but there are guidelines to follow to make sure the site is halal.
After registration, your profile will be approved by an admin team, this usually only takes a few hours, but it can be more in busy periods. They check various elements including photographs, as well as having essential security measures in place to monitor any dangerous activity.
You don't have to fill out everything, but more complete profiles get higher ratings and are boosted up the search rankings.
📱 User friendliness and the app
We found the site relatively simple to use. It's pretty intuitive, with clear icons and bright brand colours. Single Muslim is clearly aimed at younger users who fit the site's demographic.
We particularly liked that you can see the success stories. This is a matrimonial website, rather than a dating site and members are seeking a life partner rather than a series of dates, so seeing all the happy stories is a nice touch.
Single Muslim App
The Single Muslim App has the same appealing brand colours as the website, and mirrors most of the features of the website. Single Muslim is available on iOS and Android and doesn't take up too much space on your phone.
You can do all the things you can on the website like upload photos, browse profiles and send or receive messages so it's good for using on the go.
✉️ Contacting users
Unless you've signed up to Gold membership, the only interaction you have is to send a like to other people. Once you've signed up, you can see the matches the algorithm reports for you, as well as reading and replying to anyone you contact.
How to add contacts – step by step
Go to the home page
Click the profile of a person you want to contact
Click the heart icon at the top of the profile
That's it – anyone you like is added to your contacts.
Once you've added someone, you can then send and receive messages, if you have Gold membership. You can see your likes by clicking the heart icon at the top right.
👍 Pros and cons 👎
What we like
Crisp, clean layout
Users can be clear about exactly what they want
Can be used across all formats
Respectful of sharia values
Allows users to follow traditional methods of finding a match
Clear goal of Nikah
Chatroom
Photos are verified to be sure site is halal
Details are safe and secure
Single Muslim App offers the same functions as the web site.
What we don't like
Unless you're a member, access is limited
Complimentary access for women is a good way to encourage more female members, but their access is limited
The site shows you have messages, but you can't read them unless you're a member
There's the odd report of fake profiles. Users are asked to report any fraudulent profiles, so they can be removed by the admin team.
These are our top picks for dating online. Find what works for you.
Elite Singles
Ideal for: People looking to start traditional relationships rather than find hookups
Filter for religion and another Muslim to date if you like
13 million professional users
eharmony
Find a muslim match among 10 million users across the site
Serious matchmaking
Sign up for free to find someone to spend your life with
Academic Singles
Educated singles
High chance to find a muslim with an academic background
Men and women looking for serious relationships
CupiDates
Large database of Asian and European singles in the UK
Full control of your profile to set your desired privacy settings
Attend virtual events to meet even more members
DateYourGirl
Meet attractive Asian, European, & Latino singles
Quick and free signup
Casual or serious online dating
Ashley Madison
Best for: Open-minded looking for "no strings attached" fun
Free membership: Free registration, limited
Users: 54 million
EliteCupid
Personality assessment for enhanced screening

Global reach. Match with like-minded singles all over the world

Meet your equal in values, lifestyle, and career ambition
Ulla
Ignite romance right in your vicinity
Enjoy exact matching thanks to accurate filters;
And explore many more benefits that will help you find love!
Pukbo
Offers unlimited messages and great value with a Welcome Offer for the new members
More than a dating site. Gives access to engaging and unique VIP Content for its premium members
Secure. Supports a variety of safe and convenient payment options, like Google Pay and Apple Pay
Only-Flirts
Easy and convenient interface
Perfect for casual dating & hookups
Plenty of members for you to have fun with
My Mature Flirt
Engage in romantic conversations of an exciting nature with REBLL Network's premium British dating community. If you are looking for teasingly playful connections, meaningful deeper interactions, or anything in between, you have arrived at your destination! Let us create memorable experiences for you that leave you both satisfied and wanting more. Check out our perks:
Flirty Conversations: Engage in playful banter, exchange virtual surprises, and enjoy interactive charm with potential matches that make your heart race.

Captivating Profiles: Create a profile that dazzles! Share your most alluring photos, fun videos, and witty bio snippets to showcase your unique charm.

Exciting Encounters: Join us at local events, where sparks fly, connections sizzle, and you'll find yourself wrapped up in thrilling moments with other singles in the UK.

Personalized Connections: Immerse yourself in Exclusive Matches, where cutting-edge algorithms work their magic, connecting you with individuals who ignite your interests and desires.

Safety with a Spark: Your safety is our top priority, wrapped in an air of mystery and excitement. Exclusive Matches ensures a secure yet exhilarating dating experience, where you can let your guard down and embrace the adventure.
🙋 FAQs
Is Single Muslim haram?
Broadly speaking, no. Opinions do differ and as part of this Single Muslim review we found some people feel things such as showing pictures of women without their hijab does not follow Islamic values. Overall the site has things in place to ensure the site is halal.
How do I delete my Single Muslim account?
1. Log in to your account
2. Click settings > membership
3. On the left-hand side, you'll see the option to delete your profile
4. Click delete
5. Give your reason, and your profile is deleted.

If you're a Gold member, you can't delete your profile until your membership has expired.
Why am I getting ads for Single Muslim?
These are targeted ads based on your browsing history. The criteria for targeting are quite wide, so if you've been looking at marriage sites, or finding out information about Islam, you might find yourself getting these ads. You can change them in the settings of Google or Facebook or any other platform that's showing you the ads you don't want to see.
How much does joining Single Muslim cost?
It's free to join, but to use all the functions on the site you'll need Gold membership, which is £29.99 a month, or less if you sign up for longer.
How do I get my Single Muslim account approved?
Once you've completed your profile, it goes to the admin team for review. Users report that new accounts are usually approved in a just few hours, but this can be more in busy periods.
My profile says pending approval. What does this mean?
This just means your profile is waiting for the admin team to verify it and report back that it meets Single Muslim guidelines. This generally takes just a few hours, but it can be more at busy times.
ℹ️ Company information
Founder and CEO: Adeem Younis
Website: www.singlemuslim.com
UK Office
Single Muslim
PO BOX 386
Wakefield
West Yorkshire
WF2 9WA
United Kingdom
Pakistan Office
Single Muslim Matrimonial services (Pvt Ltd)
c/o Kalieem Ahmed near Chaudhary house
Bani Gala
Islamabad
Pakistan
We also wrote reviews for the following dating sites