Russian Cupid is a niche dating site owned by Cupid Media that is catered toward helping men meet Eastern European and Russian women. The site has over 1.5 million users around the world, which goes to show just how interested people are in dating beautiful women!
Cupid Media has set itself apart as one of the dating market's leaders in providing users with an optimal niche dating experience, so it's no wonder that their success in connecting people around the world with Russian singles has garnered such international attention.
The site offers a wide variety in cute Russian girls to begin your dating experiences with, and a variety of different tiers of membership to give you plenty of options.
To show you why we really do think that Russian Cupid is a great choice for Russian dating no matter where you are, we review the site's memberships, prices, registration, app, and more! Read on to find out all about what you can expect!
Check out our ranking table for the best Eastern European dating sites!
Our Summary
Russian Cupid offers exactly what it promises to users who sign up with the site, giving them access to a plethora of Russian and Eastern European women to begin their dating adventures. Users will find the site accessible and competently run for their convenience.

User profiles are generally well kept up and detailed, giving you all you really need to know about someone before you initiate a conversation with them or reply to a message. Both the app and the website are well-suited for chatting and meeting new women as well.

While it is true that many of the features require a premium account to get the most out of the site, people who do upgrade should find their success increasing dramatically. Prices are also affordable and reasonable for what you get out of the site.

There was a little confusion over what the distinction between 'Women' and 'girls' was on the site, as these were separate categories. However, women over 40 were listed as girls and those under 20 as women, so it seemed a little confusing.

Otherwise, the website is perfectly suited for helping you to meet a Russian beauty and to start dating. If you aren't sure about it yet though, read on for more information, or try the free version of the site for yourself to see what we mean!
🆓 Free profile vs paid profile
There are a lot of features that the site has available to you when looking for the right woman of your dreams, and even more when you upgrade to the premium account. But how do the free and premium versions of the site measure up?
Free membership subscription
Make your own profile
Upload a picture
Find out if people you matched with are available online
Check out the users that interest you
View other members' info
Let people know they caught your eye
Mark a member as someone you like by adding them to your 'Favourites'
Matchmaking with standard filters
Get messages from higher ranked members
Gold membership subscription
Have conversations with anyone
Instantaneous chat services
Enjoy access to all messaging features
Ad-free
Platinum membership
Platinum Membership includes Gold features, plus:
Go incognito and hide while you browse
Be put ahead of the competition
Get more space to write in for your account bio
Be featured as a VIP in other searches
The best filters for better matching
Top-tier algorithms for finding suitable partners
Get any message you want translated to a language of your choice
💰 Types of membership
There are two tiers of membership at Russian Cupid. The two types offer up to three alternative ways for you to subscribe.
Gold Tier
| | | |
| --- | --- | --- |
| | Monthly price | Total |
| 1 Month | £27.99 | £27.99 |
| 3 Months | £18.66 | £55.99 |
| 12 Months | £9.33 | £111.99 |
Platinum Tier
| | | |
| --- | --- | --- |
| | Monthly price | Total |
| 1 Month | £32.98 | £32.98 |
| 3 Months | £21.99 | £65.98 |
| 12 Months | £11.00 | £131.98 |
Payment Options
Russian Cupid offers the following payment methods for the subscription plans:
Use your Credit Card
Pay with Debit Card
Enjoy flexibility with PayPal
Pay with a Check
Use a Bank Transfer
Subscribe via Vouchers
Keep other country-specific ways to pay in mind
Make sure you keep up-to-date on payment options via their payment page, as not everything is available everywhere.
💡 How to reduce costs?
Try the free membership out
The free version of the site will get you access to basic features while also giving you a decent shot at meeting beautiful Russian women. Of course, not all features will be available to you, but you should have enough to get a start.
After you have explored the site enough you can decide if you want to commit or not. If you do, there are multiple options for you to take advantage of. Even if you don't, just getting your foot into the door of the community will give you more rewards than if you hadn't tried.
Take advantage of their payment plans
Once you have read up on what you will get when you upgrade and have a feel for how the dating site works, you should consider taking the plunge into Russian dating with a premium membership plan.
Read through the different 2019 paid plans that the site has and know what you are getting yourself into first. If you are committed, then both the gold and platinum tiers have a lot to offer and will greatly improve the accessibility of the site.
Their 1-month plan is a really great way to get your feet wet here. If you don't like the premium membership then simply cancel before the month ends to avoid any extra costs.
📊 Membership structure
How many Russian Cupid users in the UK?
More than 90,000 Russian Cupid members have taken their hunt for love and turned it into an online search for a date within the Russian community.
Russian Cupid's demographics of love
Our data indicates that most people using Russian Cupid are within the 25-40-year-old age range.
Approximately 70% female members
Most users are between 25-40
Most men are over 40 years of age
✍️ Registration process and profile creation
Like many of Cupid Media's niche dating sites, registering with Russian Cupid is a straight-forward and easy process that takes no time at all. Here's how you can join one of the most recognizable Russian dating sites on the web!
Signing up

The registration will ask for some basic information about you, such as your sex, age, location, and a valid email account with a password for the site that you create.

Building your profile

This is where you should really put in the effort to show people what sells you. There are a lot of areas for you to write about yourself here, so go through each one and answer as best and as honestly as you can.
In this case, more is more. When you take the time to properly fill in your information and make sure that all the fields have the appropriate amount of detail, you will find that you have better results.

Decide what kind of matches you want

The next big thing you should do to get started is define what kind of Russian men and women you would like to start dating. You can expect to see a lot of basic information about the Russian women you want to date here.

Upload photographs

This is an optional step but having a photo will increase your chances of attracting the Russian men and women you're looking for. When you submit a photo, you will have to wait for it to be approved.
Your pictures will be subject for approval and should be reviewed within 12 hours of your uploading them.

Verify your account

You don't need to, but verifying your account will show other users that you are a legitimate person and not a scammer. You can do this by going to 'Edit Profile' and then selecting 'Verify Profile'. Just follow the instructions to prove you are genuine.
The documents that you have to upload include a government approved document like your driver's license or passport.
📱 User friendliness
Russian Cupid dating site
Registration
If you are familiar with Cupid Media sites at all then Russian Cupid will be very familiar to you. If not, it is extremely streamlined to provide an optimal user-friendly experience that ensures you will be browsing the site in no time at all.
Navigation
Russian Cupid offers an intuitive design that caters toward being minimalist and unique. The site's system for navigating is designed with helping you meet the matches that matter as quickly as possible.
Access their features no matter what page you are on, creating a seamless flow from one match to the next. Make meeting the woman or women of your dreams a fun and enjoyable time thanks to their user-friendly service.
Profile
The profile that you write up is flexible, and there is a lot of potential for you to add in details in here that you wouldn't see on other sites. A fully-fleshed out bio of yourself will ensure that Russian women take notice of you. You can also read a lot about your matches thanks to these in-depth profiles.
Russian Cupid dating app
The smooth application of the app will give you the best chance at meeting matches while on the go. It is a user-friendly experience designed with a minimal amount of work required to access the different portions of the site. Unfortunately, there is currently no app for apple products, including iPhones.
Registration
Registration is just as simple as the website.
Navigation
When it comes to accessible apps, Russian Cupid has a fluid service that feels quick and easy to use. You'll be meeting cute Russian girls for dating in no time thanks to how well the app functions.
Adjusting profile
Access your information at any time with the touch of a few buttons and your password.
✉️ Contacting users with Russian Cupid chat
With Russian Cupid, it's easy to start up a chat with your perfect Russian match! Start talking in three simple steps.
How to contact another user:
Click on the message icon next to the user's profile picture
Type in the message in the message box
Click ´Send´
You can also send messages by viewing their profile:
You can also click on a profile to see more information
To the right of the profile picture in their profile you will see two buttons, ´Show Interest´ and 'Send Message'
Select 'Send Message' and then click on it
Put some thought into what you write and spell it out
Wrap up by clicking on 'Send'
👍 Pros and cons 👎
Pros:
Search by 'popular searches' such as 'in my area' or 'Exotic Russian Girl Gallery'
The site is available in many languages
Fast registration process
Simple to use
Possibility of setting criteria of matches
Quick to find new people that match with you
Cons:
Not available for iPhone users
Not clear what the difference on the site is between Russian Women and Russian Girls
Lack of special features for free account
Free members can only contact paid members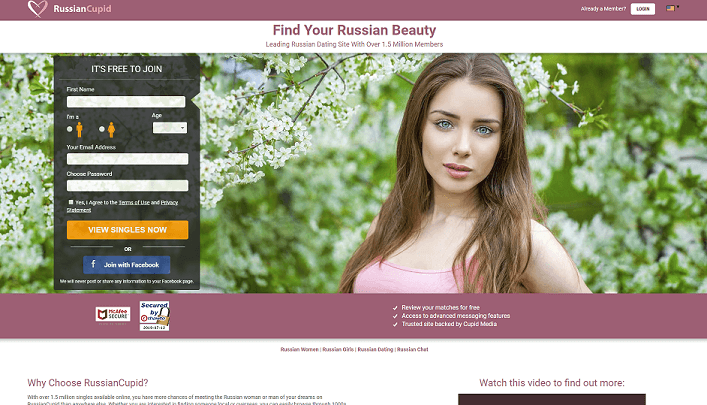 🙋 FAQs
Is Russian Cupid safe?
Yes, Russiancupid states in their terms and conditions that all of your private information is never shared with any third-party websites.
Is Russian Cupid legit?
Yes. Russiancupid is a member of Cupid Media, a company that specializes in niche dating websites with over 30+ dating sites.
How do I delete a Russian Cupid account?
To delete your Russiancupid account, you will need to login to do the following:
Login at russiancupid.com/switchoff/reasons.cfm
Follow the instructions provided
State the reason for leaving and feedback on the dating site
If you have met someone on the site, they ask you to leave a testimonial
Can I block someone?
Yes, and it is easy to do. All you have to do is go to their profile and click on the block button right below their profile photo.
How can I contact Russian Cupid?
You can either send an email to the Russian Cupid team at Cupid Media by sending an email to team@cupidmedia.com. You can also send contact their support team by phone. Their number for UK Customers (via freephone) is: 0800 056 9427
Please have the following details ready when you call:
Website name: RussianCupid
Your email address
Calls are answered Monday through Friday, between 9:00 a.m. and 4:00 p.m. Queensland, Australia time.
ℹ️ Company information
Russian Cupid is owned and operated by Cupid Media. Cupid Media has been a leading international niche online dating network since 2000. Users enjoy the company's access to both country and gender-based online dating websites.
Russian Cupid is catered for Russians and people who want to meet their potential match of Russian and Eastern European girls.
More sites to meet Eastern-European singles