Dating— especially as a teen or young adult— can be an important social milestone in your life. Most people will have had at least one romantic partner by the time they finish high school, and that can still be true for transgender and gender-nonconforming people.
However, trans and non-binary people can experience different challenges and issues when dating both online and offline. This article will discuss issues with dating as a trans or non-binary person and advice on how to solve them.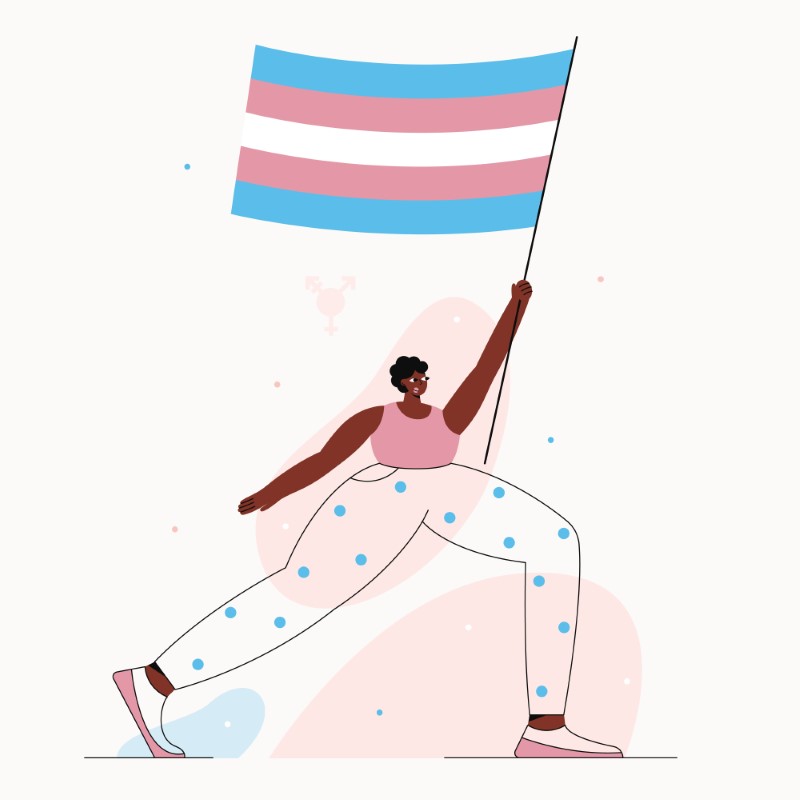 Dating issues online and offline when you're trans
With each year, more and more people turn to dating apps and websites as it can be easier to find someone that matches your hobbies and values. Of course, you can encounter many more people per day online compared to in person which can cause some issues.
Depending on what site or app you use, other members might be able to message you without needing to match with you first. Luckily, many dating apps such as Tinder and Bumble only allow matches to message each other, but apps like Grindr still allow users to message each other without matching. Without the requirement to match first, it could lead to ignorant and hateful comments stemming from transphobia that may otherwise be prevented.
On the other hand, there are also people labelled "trans chasers" by the transgender community of people that fetishize trans people and exclusively seek them out for sexual and romantic relationships. Usually, trans chasers tend to be cisgender men looking for transgender women, but other identities of trans chasers can exist.
A few signs to look for to know if the other person is a trans chaser or not, is if they keep talking about you being trans, and if they seem to only be interested in your body. Another sign could be if they directly mention looking for a trans person in their dating profile.
If you're trying to date offline, especially if you're in a place that has a variety of different people, it can be difficult to know what the other person is like and whether or not they're interested in dating transgender people. When meeting someone in-person for the first time, it would be best to stay in a public area to ensure your safety if anything offensive or violent happens.
A suggestion of where to look to find people that may be interested in dating trans and non-binary people would be to look for LGBTQ+ groups or events in your area. At the very least, the people that attend those groups and events are allies to the community and you can make friends and possibly even find a partner.
You're trans and dating another transgender person? If you're in the need of tips for trans-trans relationships, check this article out.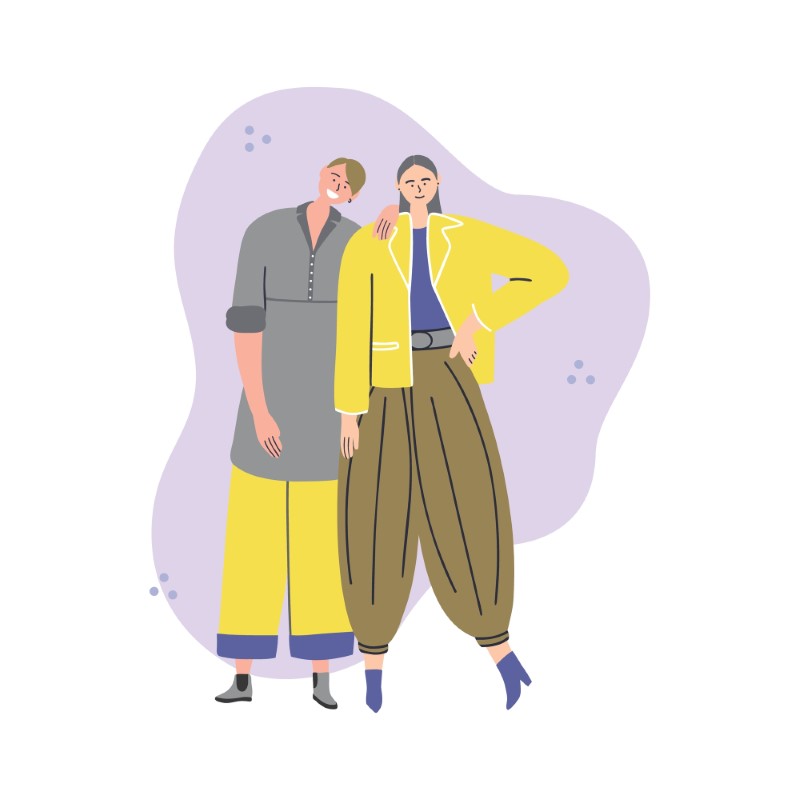 Dating when you're not out yet
If you're still in the closet, that's okay! You can take as much time as you need in order to feel ready and safe enough to come out on your own time. In the meantime, how can you date when you haven't come out yet?
Find safe meeting spots: This can look different depending on your situation. Especially if you're still living with your parents, it may not be a good idea to bring your date to your house. Try to find meeting spots that feel safe and aren't likely for the people that don't know about your trans identity to see you. Some ideas include going to the park, museum, movie theatre, or your date's house if that's a safe option.
Use chat or texting services: Luckily in our modern day we have access to the internet. One way to talk to your partner without seeing them in person around others that you're not out to is to use chat services such as Facebook messenger, Discord, or Snapchat. You could also text them if that's what you prefer.
Discuss boundaries with your partner: Before getting into a relationship while in the closet, it would be a good idea to mention that you haven't come out yet and speak with them about any boundaries you have. For example, if you both run into someone that you haven't come out to, how should you refer to each other? Also, are there particular places that you can meet up in?
Issues in trans-cis relationships and how to solve them
For cisgender people that date a transgender person, some issues can come up even if you don't expect it. What are some of these issues, and how can you prevent or solve them?
For many trans people, gender dysphoria is something that they experience as a result of their body parts possibly not matching up with their gender identity, especially if they haven't had or don't wish to have surgery. For example, a trans man might experience gender dysphoria from having breasts, and a trans woman could experience gender dysphoria from having male parts.
If your partner experiences gender dysphoria, it could affect their self esteem and even your sexual relationship. In that case, it's important to compliment your partner and try to do things for them that can help them feel more comfortable with their gender. If you're not sure what you can do about that, you can always ask what things they like.
Another issue that could come up in trans-cis relationships is whether or not the cisgender partner's family or friends will accept the trans or non-binary partner. It's important to consider if it's safe to tell the other people in your life, and also if your partner is comfortable with being out to them.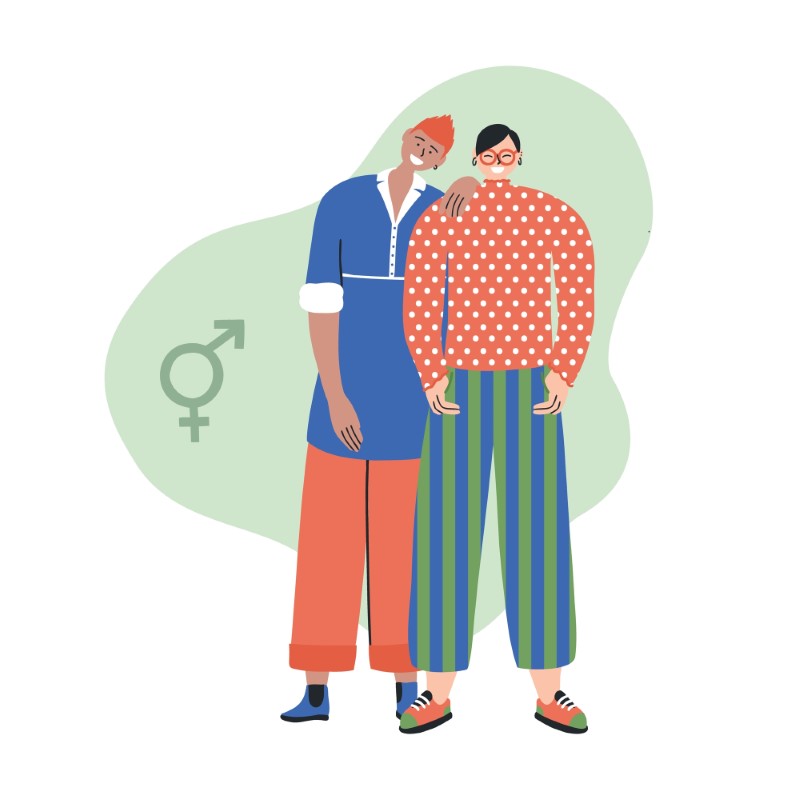 Coming out in a relationship
Coming out to anyone can be a scary and stressful experience, and it can cause an extra level of stress for someone that is looking to come out to their partner. If your partner comes out to you, here are some things to keep in mind:
Be understanding: This may be difficult at first, especially if you didn't expect it, but try to be understanding of the courage it took for your partner to share their gender identity with you. It's not easy to open yourself up to the important people in your life.
It's not about you: A trans or non-binary person discovering their gender identity is a personal experience and has nothing to do with anyone else around them. If they are interested in medically transitioning, that should only be their decision and no one else's.
Have a mature discussion: While being respectful and mature, talk to your partner about what this possibly means for your relationship. If it doesn't change anything, let them know. If it does, talk to them about what that change looks like. If for some reason you are not interested in the relationship anymore, please be mindful and respectful. However, it's important to remember that trans people's personalities don't change just because they're trans, the only change that may happen is their gender expression and their body if they choose to go through with those changes.
Support them: If you are staying with your partner, ask what you can do to support them. Do they need help getting gender-affirming clothes that will make them feel more comfortable and confident? Also, make sure to support them emotionally and let them know that you are there for them.
Successful trans relationships — can a trans person find love and acceptance?
Despite a study done by Karen Blair that suggested 88% of their 1,000 respondents said they would prefer to date a cisgender partner, it was discovered that more than half of people that identify as bisexual or queer were willing to date a transgender person.
If you are currently looking for someone to date and you feel you aren't finding many people, you don't need to lose hope. There's a variety of different dating apps you can try, including Tinder, OkCupid, and Taimi. You can also try going to some LGBTQ+ events.
The most important thing is to protect your own well-being and know that you are worthy of love and acceptance no matter what anyone else says.
Find the best casual online dating sites
Take your pick from some of the best casual online dating sites in the UK.
Mingl3
Best for: Anonymous and discreet encounters
Free membership: Free registration
Users: Chat with thousands of attractive singles
Flirthits
Easy to use chat service for quick connections
Popular in the UK for singles
Flexible matching for local and abroad
MilfFinder
Only mature women who really know what they want are members of MilfFinder.
Milfs here know exactly what they are looking for and what their needs are.
No financial risk with the free registration.
Younger men... and middle-aged men are often considered the "target group"
100% safe and secure
DateYourGirl
Meet attractive Asian, European, & Latino singles
Quick and free signup
Casual or serious online dating
Shag
Fast and simple hookups
Caters exclusively to the UK
Sign up for free and enjoy
Relax with a secure and private service
Ulla
Ignite romance right in your vicinity
Enjoy exact matching thanks to accurate filters;
And explore many more benefits that will help you find love!
EliteCupid
Personality assessment for enhanced screening

Global reach. Match with like-minded singles all over the world

Meet your equal in values, lifestyle, and career ambition
Pukbo
Offers unlimited messages and great value with a Welcome Offer for the new members
More than a dating site. Gives access to engaging and unique VIP Content for its premium members
Secure. Supports a variety of safe and convenient payment options, like Google Pay and Apple Pay
Adult Friend Finder
Best for: No strings attached and open minded individuals
Free membership: Free registration, limited
Users: 94 million
OneNightFriend
Easy casual encounters with locals
No commitment to dates or the site
Flexible for at home or on the go
Discreet to keep your fun private
Secretbenefits
Women here are very easy-going
Only real people
Unique matching
Customer satisfaction centered brand
My Mature Flirt
Engage in romantic conversations of an exciting nature with REBLL Network's premium British dating community. If you are looking for teasingly playful connections, meaningful deeper interactions, or anything in between, you have arrived at your destination! Let us create memorable experiences for you that leave you both satisfied and wanting more. Check out our perks:
Flirty Conversations: Engage in playful banter, exchange virtual surprises, and enjoy interactive charm with potential matches that make your heart race.

Captivating Profiles: Create a profile that dazzles! Share your most alluring photos, fun videos, and witty bio snippets to showcase your unique charm.

Exciting Encounters: Join us at local events, where sparks fly, connections sizzle, and you'll find yourself wrapped up in thrilling moments with other singles in the UK.

Personalized Connections: Immerse yourself in Exclusive Matches, where cutting-edge algorithms work their magic, connecting you with individuals who ignite your interests and desires.

Safety with a Spark: Your safety is our top priority, wrapped in an air of mystery and excitement. Exclusive Matches ensures a secure yet exhilarating dating experience, where you can let your guard down and embrace the adventure.
Only-Flirts
Easy and convenient interface
Perfect for casual dating & hookups
Plenty of members for you to have fun with
Lovnet
Search millions of profiles, chat in real-time and share your photos
Find, communicate and meet with like-minded people.
Discreet
FriendswithBenefits
Make friends and more quickly
Find out who in the UK is up for fun
No-strings attached sex
Reliable and safe service
C-Date
Enjoy fast and easy hookups
Meet with local UK singles or couples
Safe, discreet service for private use
Meet others in an active, supportive community
sugardaddy
Women here are very easy-going
Only real people
Unique matching
Customer satisfaction centered brand
Dirtydating
Free sign-up!
+100.000 women
100% discrete
Ashley Madison
Best for: Open-minded looking for "no strings attached" fun
Free membership: Free registration, limited
Users: 54 million
CupiDates
Large database of Asian and European singles in the UK
Full control of your profile to set your desired privacy settings
Attend virtual events to meet even more members