Facebook Dating is a new dating app feature launched by Facebook in 2020. The service functions as a location based social and dating application utilizing one of the giants of social media's advanced algorithms to help you match and start romantic relationships.
The mobile app add-on of a Facebook-based serious dating site is already considered a game changer by many in the dating industry. This is believed because rather than launch a new dating app, Facebook Dating will instead be a feature included in Facebook's main app.
For anyone who is concerned about the dating app interfering with their social circle on the main site, rest easy! Facebook Dating will instead use a different profile for their dating app so that your Facebook friends won't show up in matches, although friends of friends can.
On Facebook's official news page, the site has made the claim that it intends Facebook Dating to be more focused on serious, long-term relationships cultured in a romantic setting. This means that while flirting might be on the table, it isn't meant for casual dates.
Alternatives to Facebook Dating
That's not to say you couldn't use this for the occasional hook ups, but the service is best used with finding longer lasting, more intimate relationships.
Facebook Dating is still relatively new, so to give you a better overview of how everything will work with the service we review the membership, special features, registration, and more! Read on to learn everything you want to know.
Our Summary
Among the many new and old dating apps that are on the market today, Facebook Dating stands out for a few reasons, most of all being that it is intimately tied into the main site's social media userbase. This doesn't mean the two versions will overlap, however.

Users will be able to find new matches via a separate profile, which is done to ensure the privacy and security of anyone who is concerned about their information spilling onto the main site. It's a simple solution to anyone with privacy concerns that wants to try dating.

Facebook Dating's emphasis on ensuring users' privacy is really one of the best things about the service and is something that we feel gives it an edge over other apps in the dating market. This, along with ease of integrating photos from the main site, are two big positives.

We were also fans of how well matches could be established based on friend recommendation lists. Since matches are based on what interests' users share, many will be best suited for you as they are tailored around who shares your hobbies and the like.

We were also fans of how matches are based on location, focusing on a range of up to 100 km. The best dating apps focus on localized dating rather than trying to connect people halfway around the world. Fortunately, most apps recognize this is best for you, as well.

Our praise of Facebook's new service shouldn't be taken to mean that this is everything you could ever want out of dating apps. There are, for example, a few shortcomings that we feel may hold the service back.

For starters, as interesting as it is that Facebook is launching its own version of a dating platform, it doesn't really add anything new or innovative to a market that is already bloated with dating services and engaging features.

To that end, there are plenty which do offer something unique, and the fact that Facebook Dating doesn't may keep it from seeing the sort of traction it would have years ago. In many ways, their new dating service will be playing catch-up to preestablished brand names.

You are also limited in the number of matches you can make per day, which feels a little arbitrary for a free service. This is also hurt by the chat feature of the dating platform being limited to text only. With modern dating apps, sending images and the like is common.

Overall, though, if you are interested in finding someone local to start a serious dating experience with, then there's really no reason not to try Facebook Dating out. It is free, but still relatively new, so it might be best to temper your expectations when you try it.
📊 Facebook Dating Membership
Free membership
As of Facebook Dating's launch in 2020, the online dating service is entirely free to use for anyone who is signed in via their Facebook or Instagram account. That means that there are currently no plans for a premium subscription service.
Here's what you can expect with the Facebook Dating service as it stands now:
You can create a separate dating profile from your normal account
Contact other members when you share interests in each other
See and be seen by other people who are attending the same event
Set so you do not match with friends
Match with people who have things in common with you
Match with mutual friends from your friend's lists
"Secret Crush" feature to match with others that you 'like'
Users can filter results based on location, number of children, religion, age, or height
Match with other users within a 100-km range
✍️ Registration process and profile creation
Registering for Facebook Dating is easy to do, and just requires you to have either a Facebook or Instagram account and the Facebook app.
Register with Facebook

The first thing you will have to do is register with Facebook and create a profile there. This just requires your name, a valid email address, and basic information about your age, location, and more.
You can also use an Instagram account for this, but you will need the Facebook app either way. If you choose to just use your Instagram account, then signing up is similarly easy and just requires basic information.

Build your profile on Facebook to import (optional)

You do have the option of carrying over a lot of the information from your Facebook profile (or Instagram account) into the Facebook Dating profile, so if you don't mind them sharing a lot of the same pictures and info then just focus on one and import it.

Build your profile on Facebook Dating

Facebook Dating gives you the option of creating a profile that is separate from your main Facebook or Instagram profiles. The profile is like Facebook's base profile account with an emphasis on dating.
This means including information about yourself that is a little more intimate and tailoring your descriptions about yourself to attract others. This includes up to 20 personality questions that you can answer.

Describe your ideal partner

You will have the option of describing what kind of partner you are looking for. Facebook Dating will help you by finding new matches based on your interests and what you like, but like most dating apps you can tailor this information a bit.

Uploading your photos

When you use Facebook Dating, you have the option of allowing the service to automatically suggest pictures from either your Facebook profile or your Instagram account that might go well in your dating profile.
If you don't like the idea of the app suggesting which pictures of yours you should use, you can of course choose your own. If you want to add more photos you can also just add them on top of what is suggested.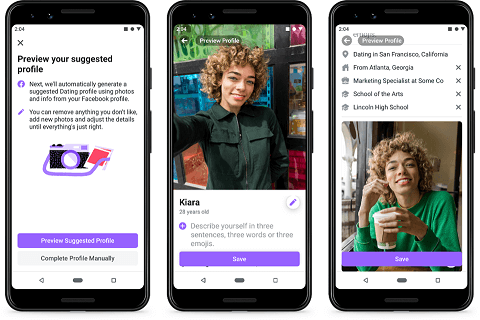 Special Features
There are several special features for users to try out with the new dating platform, giving you a lot of interesting things to play with while you try out Facebook's dating service.
On Pause
Have you ever felt the need to just get away from it all and soak in life outside of social media and online dating? It's okay to just take a break every now and again to get your head clear and enjoy some personal 'you' time as you rest and relax a bit.
Fortunately, Facebook Dating is right with you on that front and understands just how vital this can be. The pause feature allows you to 'pause' your online dating activity without having to delete your account.
You will still be able to message people that you have matched with, of course, so if there is someone special you've found then staying in touch won't be a problem.
Second Look
Have you ever had second thoughts about someone that you skipped over on a dating site, but could never remember their name and just lost the chance to go back and give them another chance? Well, Facebook Dating has just the feature for you, called 'Second Look'.
Second Look displays people you have matched with but didn't message in a reverse chronological order. This means you can go through your Suggested Matches once again and see if there are good matches you may have missed out on.
Preemptive Block List
Given the social media platform's pre-existing online community and the social circles users are already familiar with, it's an all-too possible reality that the move to include a dating platform alongside it could result in awkward situations. Fortunately, this won't be the case.
The Preemptive Block List feature gives you the ability to review your block lists to ensure you don't get matched with people who aren't your Facebook friends and yet you still don't want to see. This prevents matching with ex-lovers you haven't blocked, family, and more.
It may be one of Facebook Dating's best feature, as getting matched with people you already know in advance and would like to avoid has been an all too real problem with online dating.
Profile Content
Facebook Dating is placing a lot of value in helping people establish quality relationships with more depth to them than casual flings. This is why the Profile Content feature is intended to give users who match with others an easy way to get to know someone.
Profile Content is the inclusion of entry points displayed on profiles that you can simply tap on to strike up a conversation, whether it is about school, your shared hometowns, love of movies, or more. This will help you to build a better foundation with people you match with.
✉️ Contacting users with Facebook Dating's chat
The dating feature has a separate chat box from Facebook. For security reasons, only text messages can be sent for now. If you wish to send images, share links and other multimedia, you can opt to transfer to other messaging apps.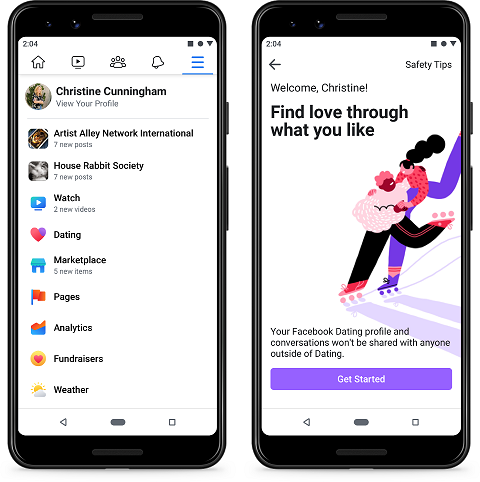 👍 Pros and cons 👎
✔️ What we like
Uses Facebook's tested friend suggesting algorithm to help you find dates
Focuses on local dates, within 100 km
Accessible via Facebook app, meaning a large userbase from the start
Facebook and Facebook Dating profiles are separate
The feature offers non-binary genders and sexual orientations
You can upload photos on Dating that are already in Facebook
There are 20 personality questions you can answer
❌ What we don't like
Unfortunately, it doesn't add anything innovative to online dating
There is a limit to the amount of interest you can send per day
The chat box can only send texts
There is no swiping right unlike other dating apps
Find the best casual online dating sites
Take your pick from some of the best casual online dating sites in the UK.
Mingl3
Best for: Anonymous and discreet encounters
Free membership: Free registration
Users: Chat with thousands of attractive singles
Flirthits
Easy to use chat service for quick connections
Popular in the UK for singles
Flexible matching for local and abroad
MilfFinder
Only mature women who really know what they want are members of MilfFinder.
Milfs here know exactly what they are looking for and what their needs are.
No financial risk with the free registration.
Younger men... and middle-aged men are often considered the "target group"
100% safe and secure
DateYourGirl
Meet attractive Asian, European, & Latino singles
Quick and free signup
Casual or serious online dating
Shag
Fast and simple hookups
Caters exclusively to the UK
Sign up for free and enjoy
Relax with a secure and private service
Ulla
Ignite romance right in your vicinity
Enjoy exact matching thanks to accurate filters;
And explore many more benefits that will help you find love!
EliteCupid
Personality assessment for enhanced screening

Global reach. Match with like-minded singles all over the world

Meet your equal in values, lifestyle, and career ambition
Pukbo
Offers unlimited messages and great value with a Welcome Offer for the new members
More than a dating site. Gives access to engaging and unique VIP Content for its premium members
Secure. Supports a variety of safe and convenient payment options, like Google Pay and Apple Pay
Adult Friend Finder
Best for: No strings attached and open minded individuals
Free membership: Free registration, limited
Users: 94 million
OneNightFriend
Easy casual encounters with locals
No commitment to dates or the site
Flexible for at home or on the go
Discreet to keep your fun private
Secretbenefits
Women here are very easy-going
Only real people
Unique matching
Customer satisfaction centered brand
My Mature Flirt
Engage in romantic conversations of an exciting nature with REBLL Network's premium British dating community. If you are looking for teasingly playful connections, meaningful deeper interactions, or anything in between, you have arrived at your destination! Let us create memorable experiences for you that leave you both satisfied and wanting more. Check out our perks:
Flirty Conversations: Engage in playful banter, exchange virtual surprises, and enjoy interactive charm with potential matches that make your heart race.

Captivating Profiles: Create a profile that dazzles! Share your most alluring photos, fun videos, and witty bio snippets to showcase your unique charm.

Exciting Encounters: Join us at local events, where sparks fly, connections sizzle, and you'll find yourself wrapped up in thrilling moments with other singles in the UK.

Personalized Connections: Immerse yourself in Exclusive Matches, where cutting-edge algorithms work their magic, connecting you with individuals who ignite your interests and desires.

Safety with a Spark: Your safety is our top priority, wrapped in an air of mystery and excitement. Exclusive Matches ensures a secure yet exhilarating dating experience, where you can let your guard down and embrace the adventure.
Only-Flirts
Easy and convenient interface
Perfect for casual dating & hookups
Plenty of members for you to have fun with
Lovnet
Search millions of profiles, chat in real-time and share your photos
Find, communicate and meet with like-minded people.
Discreet
FriendswithBenefits
Make friends and more quickly
Find out who in the UK is up for fun
No-strings attached sex
Reliable and safe service
C-Date
Enjoy fast and easy hookups
Meet with local UK singles or couples
Safe, discreet service for private use
Meet others in an active, supportive community
sugardaddy
Women here are very easy-going
Only real people
Unique matching
Customer satisfaction centered brand
Dirtydating
Free sign-up!
+100.000 women
100% discrete
Ashley Madison
Best for: Open-minded looking for "no strings attached" fun
Free membership: Free registration, limited
Users: 54 million
CupiDates
Large database of Asian and European singles in the UK
Full control of your profile to set your desired privacy settings
Attend virtual events to meet even more members
🙋 FAQs
Who can see your Facebook Dating profile?
Only Facebook Dating Users will get to see your profile in accordance with the privacy policy.
When will Facebook Dating be available?
In addition to the USA and Canada, Facebook Dating is currently available in 19 other countries as of 2020:

Argentina, Bolivia, Brazil, Canada, Chile, Colombia, Ecuador, Guyana, Laos, Malaysia, Mexico, Paraguay, Peru, the Philippines, Singapore, Suriname, Thailand, Uruguay, and Vietnam.

Facebook Dating will be in Europe by early 2020.
What is Facebook Dating?
Facebook Dating is a feature within the Facebook app that is intended to serve as an online dating platform for users of either their main site or Instagram.
How does Facebook Dating work?
Through the main Facebook app, you can choose to opt into Facebook Dating, pictures as a heart-shaped icon in the navigation bar. You can then create a Dating profile that will be separate from your main profile so long as you are 18 years or older.

You will also need to have downloaded the most recent version of Facebook. Once you have done this, you can begin to match with others who have also opted into the dating service. Just as others are suggested to you for dating, so too will you will be suggested to others.

Suggestions, or matches, are based on your preferences, interests and other things you do on Facebook. Unlike Tinder, Facebook Dating isn't about swiping or waiting around for someone else to like you back before you can start chatting.

Instead, you will be able to comment directly on someone's profile that you are interested in or tap on the Like button to let them know. On the other hand, If you aren't interested, you can pass on them.

For anyone concerned about awkward matches, Facebook Dating allows you to match with friends of friends and/or people not in your friend circle. This is to help keep down just matching with friend or even family.

Finally, all your dating activity will stay in Facebook Dating. It won't be shared to the rest of Facebook.
Where to download Facebook Dating?
Facebook Dating is not a separate app from the standard Facebook app. Rather it is a new feature embedded on the Facebook app itself.
What is the Facebook Dating app called?
There is nothing specific for Facebook Dating, just a heart shaped icon in the normal Facebook app that indicates the dating service.
Will Facebook Dating be free?
There is no news yet of premium services and subscriptions. For now, it is safe to assume that service will be free for the foreseeable future.
Can Facebook Dating turn into marriage?
Facebook Dating is not being launched with marriage as a specific goal for its users, but as with any dating site it is always possible for you to meet someone that turns out to be special enough for you to marry. Anything is possible, after all!
ℹ️ Company info
Facebook Dating belongs to Facebook, which was founded by Mark Zuckerberg and launched in 2004. Since its initial launch, Facebook has developed an assortment of services and features alongside its social media platform, including games and marketplaces.
Facebook Dating marks Facebook's newest venture as of 2020 and is supported by a company that has not only seen unrivalled success in the social media market but can guarantee a high user count from the onset.