Since the referendum in the UK, there were numerous discussions in the public about Brexit negatively affecting people's sexual life, relationships, economy, politics and other segments of social life. Until now, there has been no serious research or study on how influential Brexit is to the people who are actively searching for love in online dating platforms.
The Datingroo team surveyed active daters in the UK and EU countries to find out. The results show that although slightly more questioned people voted to leave the EU (50,19%), most of the people are still willing to date someone whose Brexit opinion is different than their own (51,98%).
Are those controversial results showing that love and attraction win the battle against politics and that the online dating area has been left out of Brexit fire for all those years?
Not really.
Take a closer look at the survey results.
Is online dating the only safe love island in the Brexit sea?
The Datingroo team researched whether Brexit influences people's choices when it comes to dating. We made a survey with questions about Brexit and online dating and got 1034 responses from active daters based in the UK and in the EU countries. We also talked to psychologists and dating experts, as well as online dating providers, about the Brexit issue and dating experiences of the people who are actively using online dating platforms.
Research showed that, in general, there are more people who actively date who feel very affected by Brexit (56%) than those who think Brexit has nothing to do with their dating choices (43%).
However, some results from the survey show that Brexit isn't really affecting dating activities. Most of the questioned people already have dated someone whose beliefs on Brexit were different than their own (58%). Interesting is that almost 60% still would consider dating someone who they know has a different opinion on Brexit than their own. One of the reasons for these contradictory results can be that people are very scared and confused when it comes to Brexit. They connect their everyday activities with Brexit, and dating, love and sexual activities are not excluded.
More than 60% of active dating app users said they have had at least one conversation about Brexit with their potential date on dating platforms. Less than 40% never communicate about Brexit in private conversations on dating apps.
Although most people would or already were dating someone who has a different opinion on Brexit, and they have conversations about Brexit on dating platforms, the fact is that 55% of survey respondents said they have been refused by someone whose beliefs on Brexit were different than theirs. Sadly, this shows that Brexit is causing some broken hearts.
Results also show that slightly more survey respondents were female (53%), are from the UK (69%) and in an age range from 18 – 34 years old.
The top dating websites used by survey respondents are:
Match (38%)
Zoosk (12%)
Friend Finder (6%)
Elite Singles (5%)
Tinder (4%)

Do Leavers and Remainers date?
Our survey shows that there are slightly more people who aren't particularly bothered by Brexit, and would date either Leavers or Remainers (51%). Those people would rather stay neutral when it comes to discussing Brexit in their dating activities.
But, our research also finds that there are people who do care passionately one way or the other (48%), and for them, it would be impossible to date someone who believes the opposite. It goes so far that some people publicly announcing on social media that they would never sleep with a Brexiter or Remainer.
One of them is the author of the Top 10 UK Dating blog 'Lucy goes dating' (www.lucygoesdating.com) and strongly Remain supporter who believes that Brexit has definitely affected dating.
"Personally I could never date a Leave supporter, because for me having shared values with my partner is crucially important, and someone who supports Leave would not share my values."

Lucy goes dating
This London based dating blogger is spending most of her free time surfing on the dating apps and interacting with other daters. She shares good and bad dating experiences all over social media, and when it comes to Brexit, she likes to keep her cards open on the table in order to attract her Mr. Right.
"I put that I'm a Remain supporter on my dating profile. Hopefully, this weeds out anyone who would not be a good match, and although I've had one or two snarky messages, in general, I've found this to be the case. If anything it's been an advantage, because stating this so clearly attracts quite a few men who feel the same. It's a good starting point for conversation if we have a shared opinion, and a shared passion for politics."

Lucy goes dating
For Andrew Hart, the Londoner who voted leave but considers himself quite liberal, it is ridiculous that people are influenced by political beliefs when it comes to their dating activities.
"I have seen quite a few profiles where girls state "I wouldn't date a Tory or someone who voted Leave". I think it's a shame that people think like this. I was once on a date and after a couple of hours of fun and stimulating conversation, my date made a disparaging comment about leave voters. I calmly told her that I voted to leave. She was shocked and said, 'but you don't seem racist' – which I think exemplifies the awful identity politics attributed to how you voted. Of course, I am not a racist, neither am I anti-immigration or anti-Europe!"

Andrew Hart
For Andrew, politics is just opinion and there is no wrong or right. The values that really count in dating attraction are love, honesty and kindness.
"I'd happily date someone who voted remain as I treasure kindness and honesty above a difference of political opinion. At least we'd have a lot to talk about – and maybe if we all loved each other a little more we'd find more common ground politically."

Andrew Hart
Dating websites in the UK keeping their eyes wide open on Brexit
For privacy reasons, dating websites don't ask users about their political views, and since all communication between users happens in private, it is hard to have more data about what topics are being discussed amongst users.
However, according to their online dating profiles, people in the UK are more than ever before willing to share their political opinions in their profile description.
Dating website EliteSingles scanned profile descriptions for mentions of the words "Brexit" and "Politics"/"Political"/"Politician" from approximately one million randomly selected members of Elitesingles.co.uk, between January 2016 and August 2019. The results show a clear increase in the number of profiles containing the word "Brexit" over time.
"It first appears immediately after the referendum on June 2016 and continues rising more-or-less steadily right up until August 2019. It's interesting to note the peak for this is February 2019 – the month before the original Brexit deadline."

Sophie Watson, Consumer PR Manager at EliteSingles.
In general, words like politics are mentioned in users profile description more often than the word Brexit, but the percentage of profiles mentioning political words decreases over time, which is opposite to the word Brexit, the study shows.
Dating website eHarmony found in its research that women who mention Brexit in their dating profiles receive 86% more messages. The same study shows that men who mentioned Brexit in their profile received 90% more messages than those who didn't mention Brexit.
According to dating website C-Date with 3+ Million users in the UK, Brexit didn't change online dating activities much.
"In general, we haven't seen much of a change in online dating behaviour in the UK that could be attributed to the current situation with Brexit."

Michael Baek from C-Date.
Baek also confirmed that Brexit isn't changing much for online dating providers as well, but they are still cautious.
"Being an online services provider we are not as concerned as some companies dealing in physical goods, but of course, we continue to keep an eye on the situation and will act accordingly if needed."

Michael Baek from C-Date.
Some online dating providers saw the marketing chance in Brexit and came up with the funny advertisement lines based on dating and Brexit. The be2 online dating website tried to get more Remainers to register using the line "Dear UK friends, if you want to remain in the EU, be2 offers dating services in 17 countries."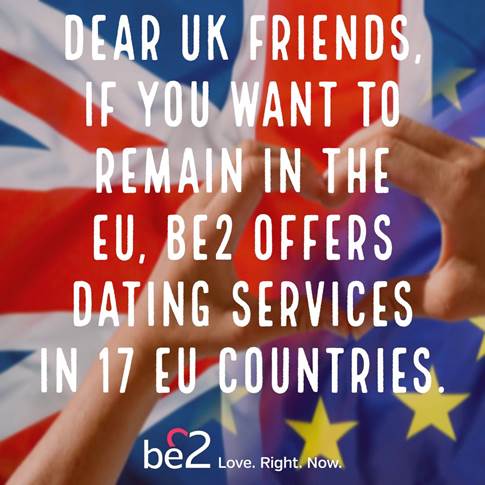 What do dating and relationship experts say?
Although Datingroo research shows Brexit and politics in general are influencing dating activities, experts agree that the decision of who to date should be made based on personality, attractiveness, kindness, sense of humor, and other life values, not exclusively on political opinion about Brexit.
Zoe Coetzee, in-house relationship psychologist at EliteSingles focuses on the basic attributes of dating attractiveness even in a Brexit Era.
"If you're navigating a Brexit blow up in your relationship, it can be useful to remember why you were attracted to each other in the first place, what was it that brought you together initially? Was it the way she laughed, his sense of humour?, said Coetzee and continued, remembering these attributes can help to rebalance your relationship positively and chances are it wasn't a shared political viewpoint that sparked off the chemistry in the beginning!"

Zoe Coetzee, in-house relationship psychologist at EliteSingles
Answering the question of how to deal with opposite political views on dates or in eventual relationships, Zoe Coetzee gave some simple advice.
"With respect and communication, it is possible to hold different opinions and enjoy a happy, healthy relationship at the same time."

Zoe Coetzee, in-house relationship psychologist at EliteSingles
Try to have a Brexit debate in the bath, with lots of bubbles. Does it work?
After all, the truth is that Brexit brought up a lot of insecure feelings, fear and lack of trust to each other. Not taking someone else's views as a personal attack is not easy, but it is the only way to have many dating possibilities in the Brexit Era.
The results of our research are clear – people are very confused when it comes to Brexit´s impact on their dating activities. On the one hand they are pretty confident that Brexit affects their dating activities, but at the same time they are still willing to date someone who is their Brexit opponent.
If you ever faced this dilemma, try Emily Hill's advice of relationship success in a post Brexit time – have political conversations in the bath, preferably with lots of bubbles – it is the safest place to have a political debate with a loved one.
Just imagine how fast you would find a common points of view even on Brexit's hard question – should I stay or should I leave?
Elite Singles
Over 13 million active users on the site
Intelligent matchmaking based on background and interests
85% of members have a professional background
Academic Singles
Matches based on questionnaire for attitude, opinions, desires, and expectations
Get your questionnaire, personality assessment, and matches all completely free
Aimed at the educated crowd and focused on helping you meet your special someone
Silversingles
Best for: Authentic 50+ matchmaking
Free membership: Free registration, limited
Users: 60,000
eharmony
#1 trusted dating app in the UK
For serious, long-term relationships
Free registration
Flirthits
Perfect for: People looking to flirt and starts things off in a fun way
Find someone in your neighbourhood
Chat with like-minded singles straight away
SingleSlavic
Fun chat function that lets you send texts, voice notes, pictures, gifts and more
Great search function
The place to find like-minded people who are looking for meaningful relationships
Immediate support from professional team
1000s of profiles
EliteCupid
Personality assessment for enhanced screening

Global reach. Match with like-minded singles all over the world

Meet your equal in values, lifestyle, and career ambition
Ulla
Ignite romance right in your vicinity
Enjoy exact matching thanks to accurate filters;
And explore many more benefits that will help you find love!
Pukbo
Offers unlimited messages and great value with a Welcome Offer for the new members
More than a dating site. Gives access to engaging and unique VIP Content for its premium members
Secure. Supports a variety of safe and convenient payment options, like Google Pay and Apple Pay
Only-Flirts
Easy and convenient interface
Perfect for casual dating & hookups
Plenty of members for you to have fun with
Mingl3
Best for: Anonymous and discreet encounters
Free membership: Free registration
Users: Chat with thousands of attractive singles
My Mature Flirt
Engage in romantic conversations of an exciting nature with REBLL Network's premium British dating community. If you are looking for teasingly playful connections, meaningful deeper interactions, or anything in between, you have arrived at your destination! Let us create memorable experiences for you that leave you both satisfied and wanting more. Check out our perks:
Flirty Conversations: Engage in playful banter, exchange virtual surprises, and enjoy interactive charm with potential matches that make your heart race.

Captivating Profiles: Create a profile that dazzles! Share your most alluring photos, fun videos, and witty bio snippets to showcase your unique charm.

Exciting Encounters: Join us at local events, where sparks fly, connections sizzle, and you'll find yourself wrapped up in thrilling moments with other singles in the UK.

Personalized Connections: Immerse yourself in Exclusive Matches, where cutting-edge algorithms work their magic, connecting you with individuals who ignite your interests and desires.

Safety with a Spark: Your safety is our top priority, wrapped in an air of mystery and excitement. Exclusive Matches ensures a secure yet exhilarating dating experience, where you can let your guard down and embrace the adventure.
CupiDates
Large database of Asian and European singles in the UK
Full control of your profile to set your desired privacy settings
Attend virtual events to meet even more members
Ashley Madison
Best for: Open-minded looking for "no strings attached" fun
Free membership: Free registration, limited
Users: 54 million
DateYourGirl
Meet attractive Asian, European, & Latino singles
Quick and free signup
Casual or serious online dating
---
Our team is deeply researching the online dating market, providing true and unbiased reviews as well as social, safety, gender and lifestyle studies and investigative articles for users, media and partners.
We are offering clear information about the online dating world, so everyone individually can make the best possible choice for joining the online dating platform according to its personal needs, affinities, age, education and personality.
If you find this study useful, or have a comment, suggestion and feedback, please contact us! We are very open for matchmaking!
© Copyright Datingroo 2019
Produced in Germany
October 2019