Mocospace has grown from being a small chat and gaming site to one of the world's largest mobile platform for chatting, dating and gaming. As people made new friends and exchanged phone numbers and messages, it became clear MocoSpace could be something more.
Alternatives to Mocospace
MocoSpace transformed its mobile application by rounding it out with online dating features. Thanks to its already large user base, it has strong potential for dating. Be aware, that the app is called Moco on both iOS and Android app stores.
Besides the statistics, is the site worth your time? What do you need to know before signing up? How much will it cost you? Read this MocoSpace review for an insight on the dating site.
MocoSpace review: Free vs paid services
Free services
Like most dating sites, MocoSpace is not entirely free. While it offers several free services, we found during our MocoSpace review that the real juice lies in the paid ones. The free services include:
Creating a profile.
Accessing blog posts, groups, and private chat forums.
Browsing the profiles of other users.
Viewing uploaded photos.
Unlimited instant messaging service to the people you are interested in.
Paid services
Checking who viewed your profile.
Stealth mode.
Removing the ads on the MocoSpace app.
Getting a higher ranking on its Meet People section.
Getting your photo labelled as VIP.
Getting access to priority support assistance.
Purchasing eCards and stickers.
MocoSpace cost
Individuals on MocoSpace fall into either regular, VIP, or VIP Legacy membership categories. A boost in your membership ranking leads to increased access to the services on the site and a better experience.
We discovered that most MocoSpace users like to upgrade to VIP status. For short term use, most opt for a monthly subscription worth £7.99 per month. If you plan on a long term use of the service, you can buy the renewable six months' subscription at £34.99.
| | | |
| --- | --- | --- |
| | Monthly price | Total |
| 1 month | £7.99 | £7.99 |
| 6 months | £5.83 | £34.99 |
| VIP – 1 month | £19.99 | £19.99 |
| VIP – 3 months | £16.33 | £48.99 |
If you wish to have a better and more targeted experience on the dating site, then you upgrade to the VIP legacy. It is only available in monthly and three months subscriptions costing £19.99 and £48.99 respectively.
MocoSpace rewards
Street Wars: It is a mobile game where you engage other MocoSpace members in a mafia-like challenge. You increase your status by completing missions and winning fights. You receive credit rewards for every finished level. Recruiting new players will also earn you credits, which you can convert to Moco gold for in-game purchases.
Friendshop: Ever thought of selling your best friend for profit? Or how much you would earn if you were a commodity? This entertaining game gives you a clue into how that would turn out. At Friendshop, you buy and sell friends or get bought or sold using Friendshop Cash. Your value goes up each time you are sold. If someone purchases a person you own, you get a profit.
Daily Spin: Here is something for "Spin the Wheel" lovers. We think the daily spin offers an excellent opportunity to win various prizes including the 200 trillion Street Wars cash, 100,000 Gold, additional spins, and much more. Even more, each spin earns you a reward.
Who uses MocoSpace?
MocoSpace has over 35 million users worldwide. About 7 in every ten users access the service through MocoSpace mobile apps. Moco has more female users as their proportion stands at 56%.
MocoSpace is very diverse with Latino, Caucasian and African-American users contributing to 38%, 22%, and 35% of the users respectively.
In terms of age, about 40% of the users fall in the 18-24 age bracket. The 25-30 and 31-35 age groups make up 24% and 17% respectively, and only 13% of the users are older than 35 years.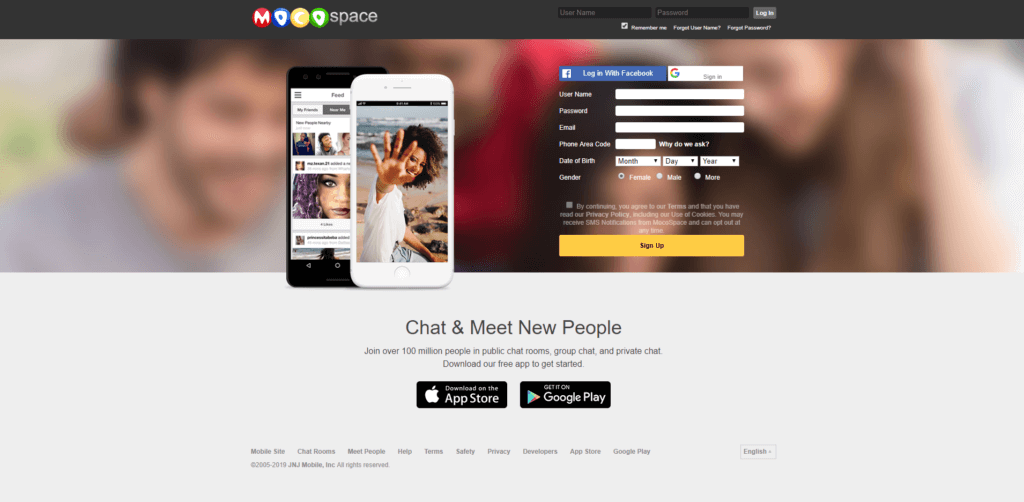 MocoSpace review: How to sign up
Registration process is very simple!
First things first!

Visit the site

Enter basic details.

Enter your preferred username, password, email address, and area code

Accept the terms and conditions

Click on the ''accept the terms and conditions'' box and proceed to sign up.

Prove that you are not a robot by clicking the security images. 🤖
Create your account!

Upload a profile photo and click "sign in" to start using your account.
You can bypass the entire process if you have a Facebook or Google account. Choose any of the two options and sign up using pre-existing info from those services.
MocoSpace review: ease of use
If you have used Facebook, you will find both MocoSpace mobile app and website site easy to navigate.
However, unlike, Facebook, we found out that the posts that appear on the home timeline are from everyone on the platform, which makes it a little jumbled up. Fortunately, you can block some users whose updates you do not want to see.
MocoSpace app
MocoSpace has a mobile app for both iOS iPhone and Android users. The apps have a simple, intuitive interface with easy navigation, just like Facebook. The adverts may be annoying, but you can remove them by purchasing a ads-free membership for the MocoSpace website.
We feel the app serves its purpose and with a few upgrades you can improve its responsiveness, at a cost of course.
MocoSpace chat features
All users have unlimited access to other users. Which means you can message any person on the platform. The best place to find likeminded people is in the dating chat rooms. However, you will have to verify your account before accessing a group chat.
MocoSpace provides zero privacy concerning what you do on the site. Somehow, everyone can see it. Therefore, if you wish to take things to a different level, you have to do it outside the platform.
MocoSpace review: Pros and cons
During our MocoSpace review, we found the following pros and cons.
Pros
The main advantage of signing up with MocoSpace is the unlimited number of people you could meet on the dating site. It also offers a one-stop place to play games, meet a friend and find a soul mate.
As a social media platform, MocoSpace is really user-friendly and great for sending and receiving friend requests, sending gifs, or playing games. The dating is also pretty good, even if it isn't the hottest dating service on Google play or the like.
Cons
Creating a fake account or fake profile on MocoSpace is easy. Consequently, you are never certain if you are dealing with a real person. It is no surprise that the site continual warns against providing personal information on the site.
We think that the downside of the site is the lack of regulation on the content shared on it. Even though the owners claim to regulate the content, there is still a lot of explicit overtones. Discussions on drugs, sex trafficking, and vulgarity are commonplace in the chat rooms.
There is also the prevalence of pop up ads and potential scammers on here, which is made more of an issue than on other dating apps due to how easy it is to sign up and how lax security can be.
MocoSpace review: Final words
We find MocoSpace to be a suitable one-stop solution for social media, gaming, and dating needs. The mobile platform is easy to use, and games are immersive. Besides, you can be whatever you want to be on this site.
Similarly, you should expect to find anything on this site, from a life partner to scams and real life bullish perverts.
Find the best casual online dating sites
Take your pick from some of the best casual online dating sites in the UK.
Mingl3
Best for: Anonymous and discreet encounters
Free membership: Free registration
Users: Chat with thousands of attractive singles
Flirthits
Easy to use chat service for quick connections
Popular in the UK for singles
Flexible matching for local and abroad
MilfFinder
Only mature women who really know what they want are members of MilfFinder.
Milfs here know exactly what they are looking for and what their needs are.
No financial risk with the free registration.
Younger men... and middle-aged men are often considered the "target group"
100% safe and secure
DateYourGirl
Meet attractive Asian, European, & Latino singles
Quick and free signup
Casual or serious online dating
Shag
Fast and simple hookups
Caters exclusively to the UK
Sign up for free and enjoy
Relax with a secure and private service
Ulla
Ignite romance right in your vicinity
Enjoy exact matching thanks to accurate filters;
And explore many more benefits that will help you find love!
EliteCupid
Personality assessment for enhanced screening

Global reach. Match with like-minded singles all over the world

Meet your equal in values, lifestyle, and career ambition
Pukbo
Offers unlimited messages and great value with a Welcome Offer for the new members
More than a dating site. Gives access to engaging and unique VIP Content for its premium members
Secure. Supports a variety of safe and convenient payment options, like Google Pay and Apple Pay
Adult Friend Finder
Best for: No strings attached and open minded individuals
Free membership: Free registration, limited
Users: 94 million
OneNightFriend
Easy casual encounters with locals
No commitment to dates or the site
Flexible for at home or on the go
Discreet to keep your fun private
Secretbenefits
Women here are very easy-going
Only real people
Unique matching
Customer satisfaction centered brand
My Mature Flirt
Engage in romantic conversations of an exciting nature with REBLL Network's premium British dating community. If you are looking for teasingly playful connections, meaningful deeper interactions, or anything in between, you have arrived at your destination! Let us create memorable experiences for you that leave you both satisfied and wanting more. Check out our perks:
Flirty Conversations: Engage in playful banter, exchange virtual surprises, and enjoy interactive charm with potential matches that make your heart race.

Captivating Profiles: Create a profile that dazzles! Share your most alluring photos, fun videos, and witty bio snippets to showcase your unique charm.

Exciting Encounters: Join us at local events, where sparks fly, connections sizzle, and you'll find yourself wrapped up in thrilling moments with other singles in the UK.

Personalized Connections: Immerse yourself in Exclusive Matches, where cutting-edge algorithms work their magic, connecting you with individuals who ignite your interests and desires.

Safety with a Spark: Your safety is our top priority, wrapped in an air of mystery and excitement. Exclusive Matches ensures a secure yet exhilarating dating experience, where you can let your guard down and embrace the adventure.
Only-Flirts
Easy and convenient interface
Perfect for casual dating & hookups
Plenty of members for you to have fun with
Lovnet
Search millions of profiles, chat in real-time and share your photos
Find, communicate and meet with like-minded people.
Discreet
FriendswithBenefits
Make friends and more quickly
Find out who in the UK is up for fun
No-strings attached sex
Reliable and safe service
C-Date
Enjoy fast and easy hookups
Meet with local UK singles or couples
Safe, discreet service for private use
Meet others in an active, supportive community
sugardaddy
Women here are very easy-going
Only real people
Unique matching
Customer satisfaction centered brand
Dirtydating
Free sign-up!
+100.000 women
100% discrete
Ashley Madison
Best for: Open-minded looking for "no strings attached" fun
Free membership: Free registration, limited
Users: 54 million
CupiDates
Large database of Asian and European singles in the UK
Full control of your profile to set your desired privacy settings
Attend virtual events to meet even more members
MocoSpace review: FAQs
Still have some questions about the service? Check out our answers to some of the most frequently asked questions here!
How do I get free gold on MocoSpace?
Complete surveys and offers on the website or app for free gold.
How do I delete photos on MocoSpace?
Go to the album with the photo you wish to remove, click "manage photos." Choose the photos you wish to delete and click "remove" then confirm the action to delete the picture.
How do I delete my MocoSpace account?
Go to "settings" on the homepage and click on "Cancel Account." You will have to provide your password. Your account will be available for three more days in case you change your mind, after which it will be permanently deleted.
How do I change my MocoSpace username?
Go to "Settings," then "Account Settings" and then change the username. You can only do this once every 30 days.
Who uses MocoSpace?
MocoSpace is like a cosmopolitan city; all cultures and generations are welcome.
What is MocoSpace backstage?
This is a feature that allows you to upload photos in a private album and let others pay in Moco Gold to view them. You earn 30% of the income from these photos.
Why is MocoSpace texting me?
MocoSpace automatically adds you to a mailing list when you sign up.
How do I log in to MocoSpace without a Facebook account?
Use your Google account or create a MocoSpace account with your email address.
What is MocoSpace used for?
It is fundamentally a site for meeting new people, gaming and having fun. But you can bet some people have found other ways to use it.
How do I recover my MocoSpace account?
The only way to recover a deleted account is to log in within three days of the deletion. Otherwise, you will have to create a new account.
More reviews