Chatiw is a sex chat website that allows you to chat with a stranger in adult chatrooms, offering what some people consider to be the best chat rooms in the UK. There is no registration required to start chatting with strangers, so you can get going right away.
The site has been around since 2009, and although minimalist in its approach to sex chatrooms, people have enjoyed the opportunity to chat random people up. The camchat is also like Chatroulette, so the quality hits almost the same level as other sex chat sites.
If you are someone who finds it exciting to anonymously chat to a stranger through sexting and cam chat or to take advantage of the 'stranger chat' nature of the site, then Chatiw certainly has something to offer you that will you might just enjoy.
To see if Chatiw is the place you want to go to try some adult chat rooms out, read our review of the website's free and paid memberships, the membership structure of the site, its user friendliness, and what pros and cons you can expect.
Our Summary
Chatiw offers some very basic chat room services for users, and while it may not be the best type of chat experience you will ever have, it is straightforward and direct enough to be rewarding. You will have to put in some time to get something out of this though.

When it comes to dating, you won't have the best chances at meeting someone that will lead to a serious or lasting relationship. Chatiw is realistically meant for casual flirting, sexting, and chatting and for that it does offer a reliable platform for enjoying these.

That said, the site is quite basic when it comes to what it offers users. One big downside is that there is no verification system in place, which ensures that there are a good amount of fake accounts and potential scammers on Chatiw. This is a problem.

Additionally, there is little real incentive to upgrade your membership as the free version is just as good for chatting and sexting. This is good, as members looking to just enjoy this experience for free won't have a reason not to just try the site out.

In the end, Chatiw offers a basic adult chat room experience with little to really spice things up. On the upside, this can be enough, and some people will get exactly what they want out the site. It is free and easy to sign up and you don't need an email, so why not give it a try?
🆓 Free Profile Vs Paid Profile Review
You don't need to pay a single cent to use Chatiw, but if you would like to see an improved version of the website they do offer a VIP membership. Here are the differences between the two types of membership:
Free Membership
Joining chat rooms and sending personal chats
Searching for other members/users of the site
Editing and completing your profile
Sending pictures and emojis to other users
Profile creation
Block certain user
Check Chat History
Paid Membership
No Ads
No Bot Captcha
Reserved Nickname
VIP badge on the List
Ban Priority, for users who deserve ban
Send links, Send Numbers
Send Unlimited Images
VIP Support
💰 Types of Membership
Chatiw only has two types of memberships, the free membership and the VIP membership. VIP members don't need to re-enter their information every time they want to use the site. All that is needed is for one to log in and the site will automatically load.
Premium Monthly Plans
| | |
| --- | --- |
| Subscription Plan | Total |
| 1 month | $4.95 |
| 6 months | $25.95 |
| 12 months | $49.95 |
| LifeTime | $99.95 |
💡 How to Reduce Costs
When it comes to chatting sites like Chatiw that offer a membership, the best thing you can do to save on money is to simply try out their basic and free version of the site. With Chatiw, you can see that you already get quite a bit out of the basic membership.
Before you sign up for the VIP membership, we highly recommend that you just go through the site and try it out for yourself. There's no pressure to upgrade your account and doing so won't give you better odds with dating, it will just make the site more user friendly.
📊 Membership Structure Review
On average you can find somewhere between 1400-1600 users in the United Kingdom online at any time.
Chatiw's Demographics of Love
Being a chatroom, there is quite a range in the age of users you can meet online. However, there are many younger users.
Approximately 40% of users are 18-24
Approximately 30+% are 35-50
There are more male users than female, with about 70% being male
Of course, the exact numbers are hard to pinpoint as Chatiw does not use a verification system for registering and there were quite several fake accounts promoting other sites.
✍️ Registration Process and Profile Creation Review
Although there doesn't seem to be much of a registration process at first glance, you are required to give some information before you can start chatting. It should be noted that VIP members do get additional registration bonuses.
Signing Up

You will be asked to create a username for Chatiw, as well as your age and sex. You can only select either male or female, so there's no option for transgender individuals.

Setting Your Location

You have two options for setting your location. You can either manually select the country and region that you want people to believe you are from, or you can use Chatiw's GPS feature to automatically select your location.

Using Chatiw's GPS

If you do decide to have Chatiw automatically know your location, all you have to do is click the GPS button. You will have to allow Chatiw to know your location for this feature to work but it is helpful if you are on the move quite often.

VIP Members

If you upgrade to Chatiw's VIP membership, you will have your profile information kept on the site. This means that anytime you come back to the website you can login with your old credentials without having to re-enter it every time.

Start Chatting

Chatiw does not have any way for you to add anymore information to your profile, which means you cannot upload a profile picture or write something about yourself. This means that you can just start chatting with other members right away.
📱 User Friendliness Review
Registration
There isn't much to the registration process for people on Chatiw's website, so this is very fast to do. However, this means there is no verification system in place either, which can be an issue. Still, this is very fast and you can start joining chat rooms immediately.
Navigation
Going from chat rooms to other private chats is really quick, and the website goes a long way to give people an immediate experience for moving around the site.
Profile
There isn't much in the way of profiles, even if you have a VIP membership, so there won't be much for you to go off of or to show people.
Chatiw Dating App
The website can be accessed via Android, iOS, and tablets, but there is also an app which is available. However, the app functions identically to the site. The service that you will get here may be slightly sleeker, but that will be about it.
Registration
The registration for the app is just as quick as the website. You can use the app after simply giving a username and your basic info.
Navigation
You can use the chat service just as easily via the app as you can the website.
✉️ Contacting Users with Chatiw Chat
Chatting with people here is quick and easy to start. Here's how you do it:
Click on a user from the list of people online
You can see their profiles beneath their names, so you know their age and sex
Once selected, type out your message in the text box and click 'Send'
👍 Pros and Cons 👎
✔️ What we like
Instant access to all members who are online
Basic but functional chat system
Easy to get started
❌ What we don't like
The VIP membership doesn't offer much
Few features to make the site interesting
Many fake accounts
Difficult to reliably meet someone you can trust on the site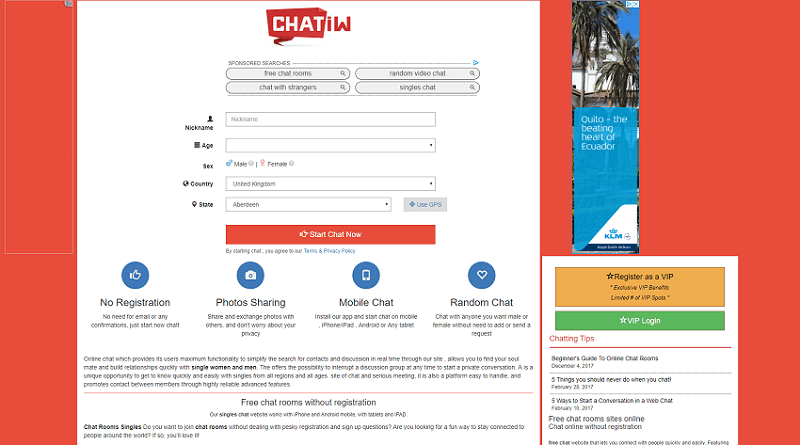 Find the best casual online dating sites
Take your pick from some of the best casual online dating sites in the UK.
Mingl3
Best for: Anonymous and discreet encounters
Free membership: Free registration
Users: Chat with thousands of attractive singles
Flirthits
Easy to use chat service for quick connections
Popular in the UK for singles
Flexible matching for local and abroad
MilfFinder
Only mature women who really know what they want are members of MilfFinder.
Milfs here know exactly what they are looking for and what their needs are.
No financial risk with the free registration.
Younger men... and middle-aged men are often considered the "target group"
100% safe and secure
DateYourGirl
Meet attractive Asian, European, & Latino singles
Quick and free signup
Casual or serious online dating
Shag
Fast and simple hookups
Caters exclusively to the UK
Sign up for free and enjoy
Relax with a secure and private service
Ulla
Ignite romance right in your vicinity
Enjoy exact matching thanks to accurate filters;
And explore many more benefits that will help you find love!
EliteCupid
Personality assessment for enhanced screening

Global reach. Match with like-minded singles all over the world

Meet your equal in values, lifestyle, and career ambition
Pukbo
Offers unlimited messages and great value with a Welcome Offer for the new members
More than a dating site. Gives access to engaging and unique VIP Content for its premium members
Secure. Supports a variety of safe and convenient payment options, like Google Pay and Apple Pay
Adult Friend Finder
Best for: No strings attached and open minded individuals
Free membership: Free registration, limited
Users: 94 million
OneNightFriend
Easy casual encounters with locals
No commitment to dates or the site
Flexible for at home or on the go
Discreet to keep your fun private
Secretbenefits
Women here are very easy-going
Only real people
Unique matching
Customer satisfaction centered brand
My Mature Flirt
Engage in romantic conversations of an exciting nature with REBLL Network's premium British dating community. If you are looking for teasingly playful connections, meaningful deeper interactions, or anything in between, you have arrived at your destination! Let us create memorable experiences for you that leave you both satisfied and wanting more. Check out our perks:
Flirty Conversations: Engage in playful banter, exchange virtual surprises, and enjoy interactive charm with potential matches that make your heart race.

Captivating Profiles: Create a profile that dazzles! Share your most alluring photos, fun videos, and witty bio snippets to showcase your unique charm.

Exciting Encounters: Join us at local events, where sparks fly, connections sizzle, and you'll find yourself wrapped up in thrilling moments with other singles in the UK.

Personalized Connections: Immerse yourself in Exclusive Matches, where cutting-edge algorithms work their magic, connecting you with individuals who ignite your interests and desires.

Safety with a Spark: Your safety is our top priority, wrapped in an air of mystery and excitement. Exclusive Matches ensures a secure yet exhilarating dating experience, where you can let your guard down and embrace the adventure.
Only-Flirts
Easy and convenient interface
Perfect for casual dating & hookups
Plenty of members for you to have fun with
Lovnet
Search millions of profiles, chat in real-time and share your photos
Find, communicate and meet with like-minded people.
Discreet
FriendswithBenefits
Make friends and more quickly
Find out who in the UK is up for fun
No-strings attached sex
Reliable and safe service
C-Date
Enjoy fast and easy hookups
Meet with local UK singles or couples
Safe, discreet service for private use
Meet others in an active, supportive community
sugardaddy
Women here are very easy-going
Only real people
Unique matching
Customer satisfaction centered brand
Dirtydating
Free sign-up!
+100.000 women
100% discrete
Ashley Madison
Best for: Open-minded looking for "no strings attached" fun
Free membership: Free registration, limited
Users: 54 million
CupiDates
Large database of Asian and European singles in the UK
Full control of your profile to set your desired privacy settings
Attend virtual events to meet even more members
🙋 FAQs
How do I send pics on Chatiw?
1. In the text box where you can type your message you will see an image icon
2. Click on the image icon to open your directory
3. Find and select an image
4. Click on 'Open'
5. Click 'Send' to send your picture
How do I send a private message?
1. On the left side of the screen you will see a list of users who are currently online
2. Click on a member you would like to chat with
3. Type your message in the text box below the chat window
4. Add an image if you feel like
5. Click 'Send' to send your message
Can I share a link with someone on Chatiw?
Only VIP members are allowed to share links with other users. You will still see many free users sharing links in chat with parts of the URL edited to easily be used, however.
Is Chatiw safe to use?
Chatiw states clearly that it works to ensure the safety of all users on the site, but nevertheless it can happen that scammers and frauds may try to use the site to take advantage of you.

Always be meticulous with what you say to strangers in any chatroom and keep your private information and credit card data secure and off any chat sites. Your privacy should always remain just that: your own privacy. Don't make your private data public.
How do I report someone?
You can report someone easily. Just do the following:
1. If you are not chatting with the person you wish to report, click on their username from the list on the left
2. In the upper-right you will see the 'Block,' 'Report,' and 'Close'. Click on 'Report'
3. You will be given a list of reasons to select for why you wish to report the user and will no longer be able to chat with the user
4. Select your reason for reporting the user
5. Confirm your report by selecting the button that says 'Report it'
How do I delete my information from this site & deactivate it?
There is no way to manually delete any of your information from Chatiw. However, all of your data will automatically be deleted from Chatiw after a few hours of inactivity.
I am still having problems, who should I contact?
If you are having any general problems with the website or would like to have your information taken down faster, you can contact the support team at Chatiw through their email at [email protected] or via their Contact Form.
How can I change my country?
You can only set your country location when you initially sign up. Although Chatiw states that it uses GPS to locate your country, this is optional, and you can set it. Otherwise, there is no option to change your location once you have signed up.

If you are intent on changing your location, log out of the site and sign up with a new profile, or simply wait for the site to delete your information. This takes a few hours of inactivity. You will be asked for new sign in information and can then change your location.
Is there a way to get unbanned?
Unfortunately, no. All bans last for 48 hours and you must wait the duration out. If you feel as if the ban was given to you in error, you can contact Chatiw support through their Contact Form.
Why did Chatiw ban me?
There could be any number of reasons why you were banned, ranging from not following the rules that you agree to when you first start chatting to possibly offending another member. Be polite and friendly and you should be okay.
ℹ️ Company Info
Chatiw is owned and operated by Chatiw and has been in service since 2009.
More reviews